Enjoy the highest standards in terms of service and catering during a very exclusive cruise experience that has received a number of awards. A voyage aboard the EUROPA, the flagship of Hapag-Lloyd Cruises, awaits you – the most beautiful way of discovering faraway destinations.

Experience a ship that sets standards on an international scale – for no less than the fourteenth consecutive time, the EUROPA is the only cruise ship worldwide to have been awarded the coveted distinction "5 stars plus" by the Berlitz Cruise Guide 2014. Never before has there been so much space per passenger nor so much privacy to feel comfortable and at ease.

Aboard MS EUROPA, the at the most 408 guests are exclusively awaited by suites in a sophisticated ambiance and with generous space at the disposal of each guest. The limited number of passengers and the superior ratio of crew members to guests with a German- and English-speaking hotel crew ensure that you feel comfortable on board in every respect from the very first minute. This applies both at sea and ashore. Because independently of where you are travelling with the EUROPA, you can be assured of first-class competence at all times – the captain, the crew and experts on board as well as tourism, tour guide and shore activity experts respectively provide the greatest possible degree of individuality with regards to service and cruise programmes.

Besides the perfect service, a genuine culinary highlight also awaits you on a cruise with the EUROPA. Our master chefs will treat you to mouth-watering adventures, new passions for the palate and surprising interpretations of classics. In particular, you may look forward to the "Restaurant Dieter Müller" of the renowned Michelin starred chef.

Time out for body and soul: Our golf area, the OCEAN SPA, the fitness room, our pool with Magrodome as well as the outstanding cultural and entertainment programme offer plenty of diversity and ensure your well-being.

Let yourself be whisked away to the most fascinating destinations on Earth. Welcome aboard MS EUROPA!

Let yourself be carried off to fascinating destinations or visit the most beautiful golf courses in the world.
Welcome on board the EUROPA!

Ship Profile & Stats
Tonnage: 28,890
Length: 198.6 m
Beam: 24 m
Draft: 6 m
Speed: 21 knots
Passenger capacity (dbl): 408
Ship Amenities
Air Conditioning
Mini Bar
Dressing Gowns
Safe
Colour TV
Telephone
Hair Dryer
Ship Facilities
Europa Restaurant
Oriental Restaurant
Venezia Restaurant
Europa Lounge (Concert & Ballroom)
Bars
Lounges
Library
Internet Access
Golf Simulator
Hairdresser
Beauty Salon
Fitness Room
Sauna
Massage
Wellness Area
Swimming Pool
Boutique
Jeweller
Kindergarten
Laundry
Medical Services
Filter results:
Currently we have no results for this ship, please click here to start a search and find something for you!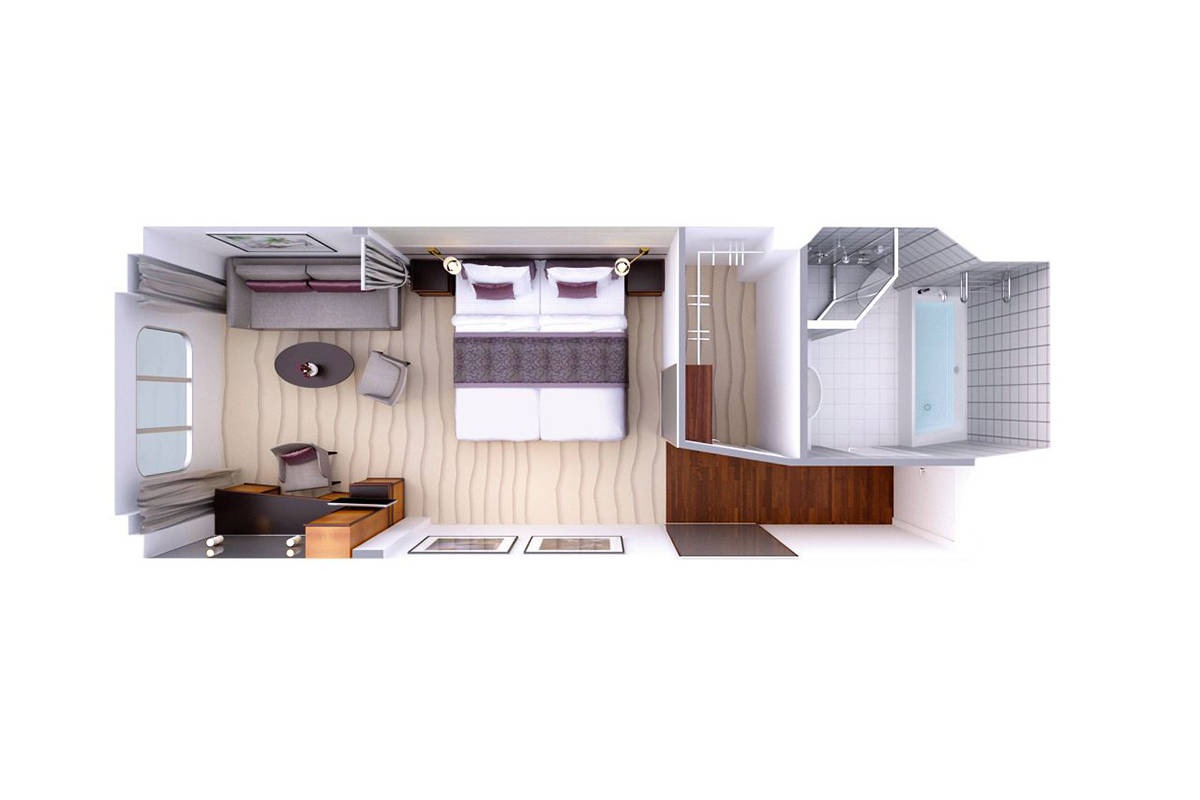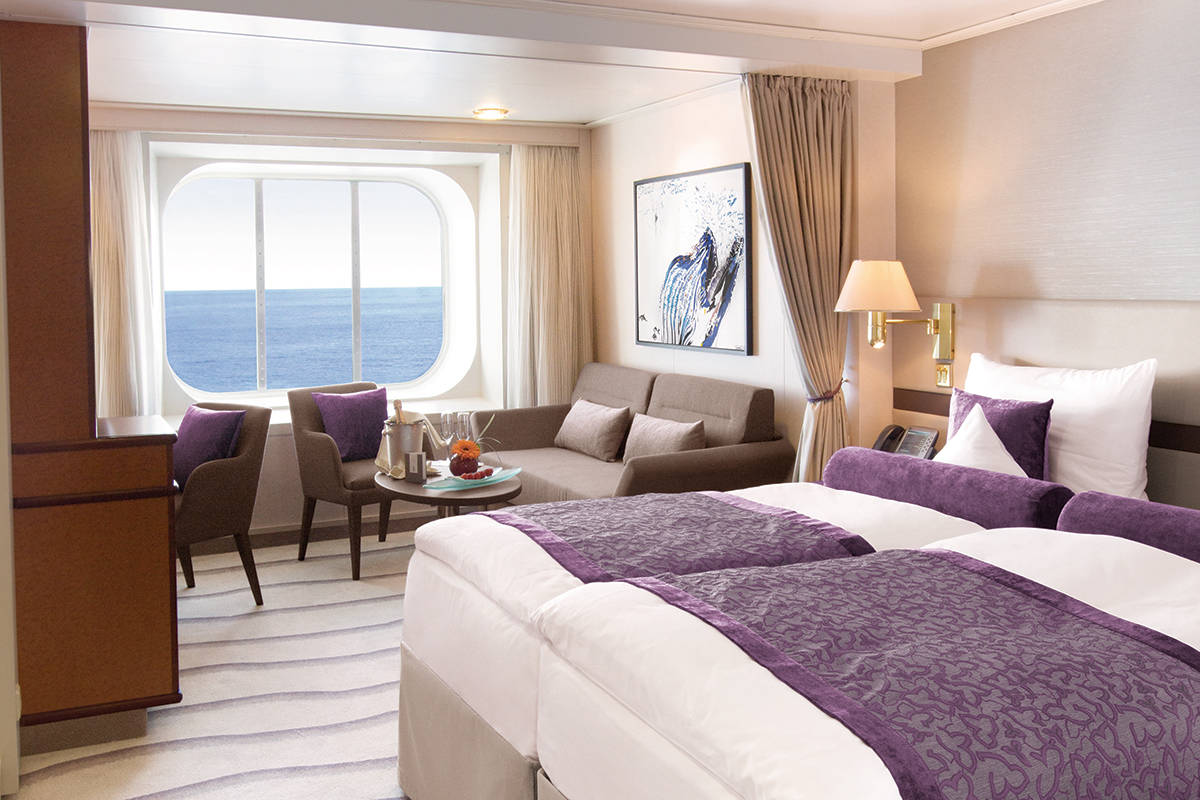 Your suite is a place where you can feel completely at home. An inspiring colour palette, cosy lighting and carefully selected interior decor combine to create a pleasant atmosphere of well-being. Featuring a panorama window with a view that changes every day.

* 27 m² (290 ft²) Suite with a panorama window
* 24-hour suite service
* Visually divided living and sleeping area
* Bathroom with shower and bathtub
* Walk-in wardrobe
* Free mini bar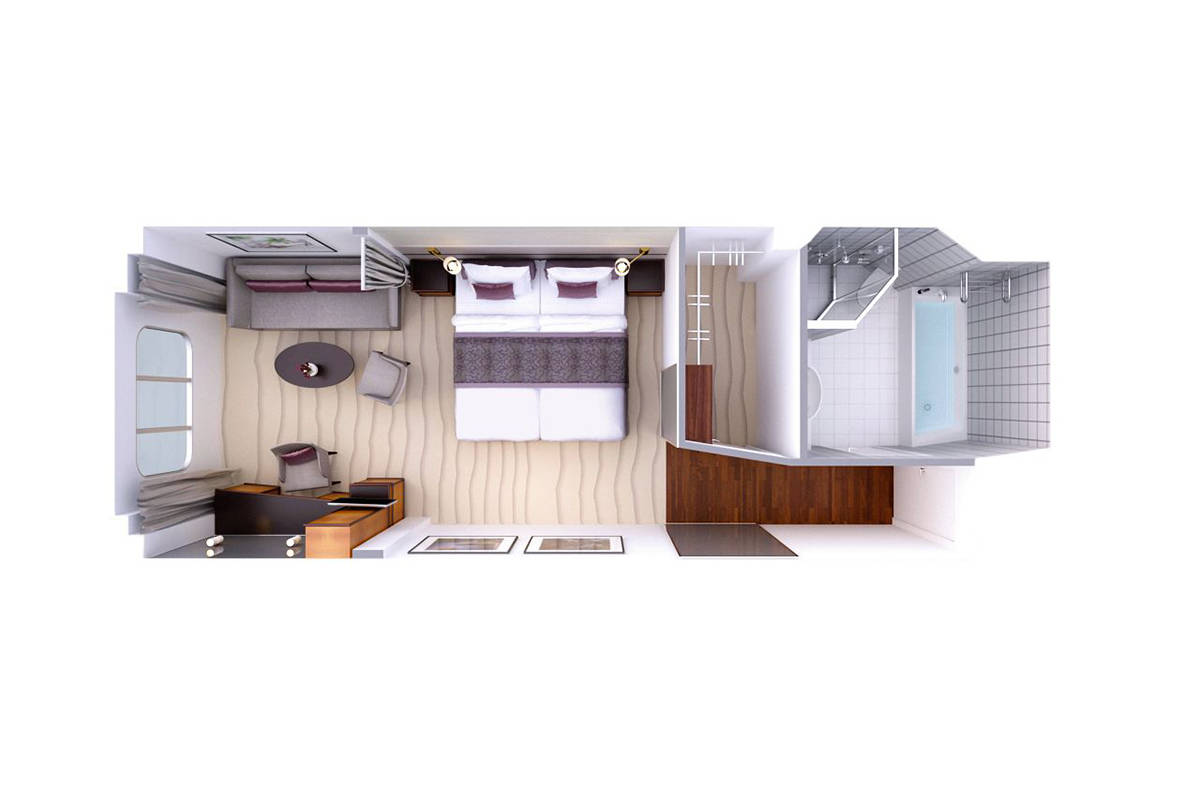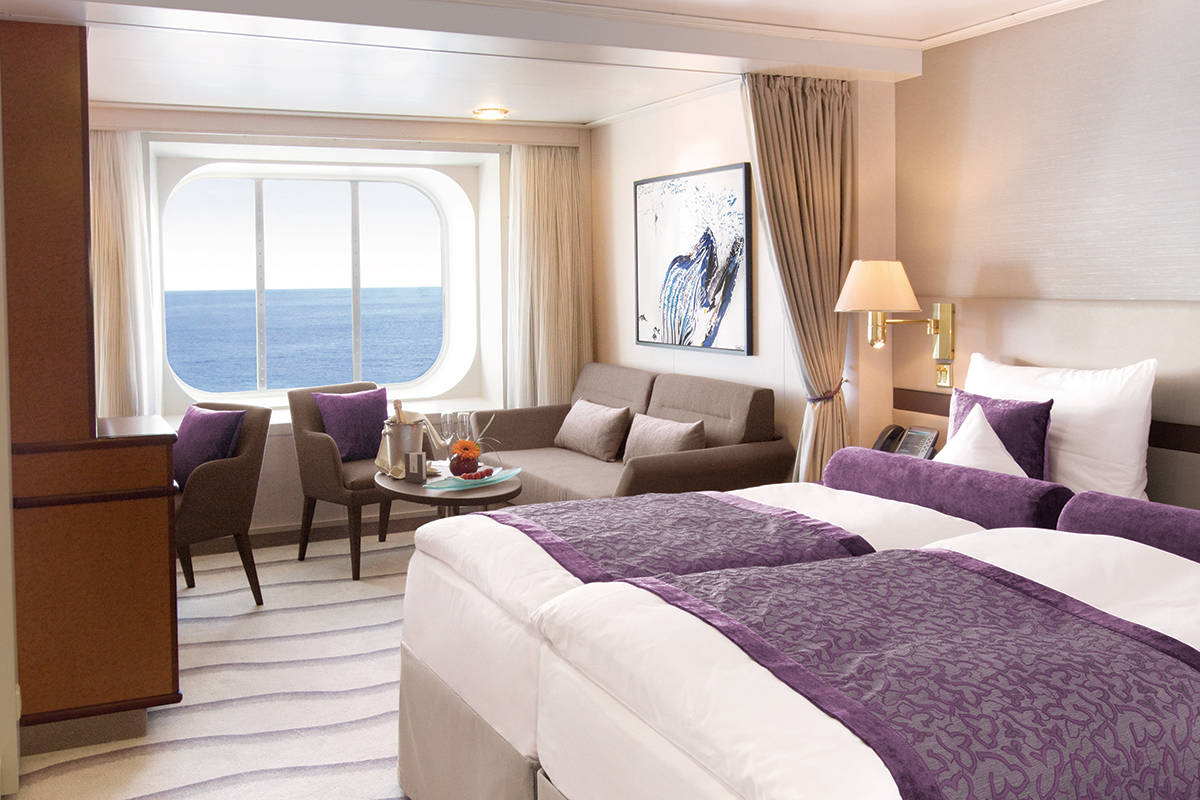 Your suite is a place where you can feel completely at home. An inspiring colour palette, cosy lighting and carefully selected interior decor combine to create a pleasant atmosphere of well-being. Featuring a panorama window with a view that changes every day.

* 27 m² (290 ft²) Suite with a panorama window
* 24-hour suite service
* Visually divided living and sleeping area
* Bathroom with shower and bathtub
* Walk-in wardrobe
* Free mini bar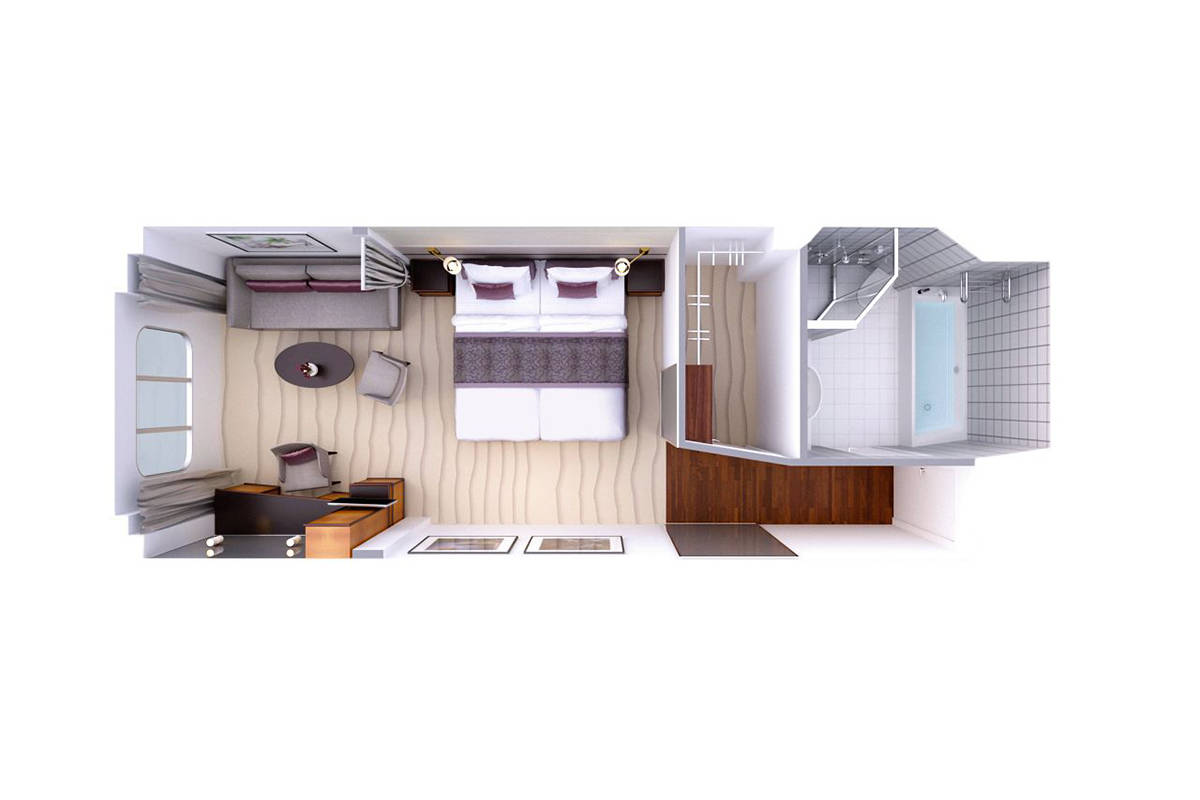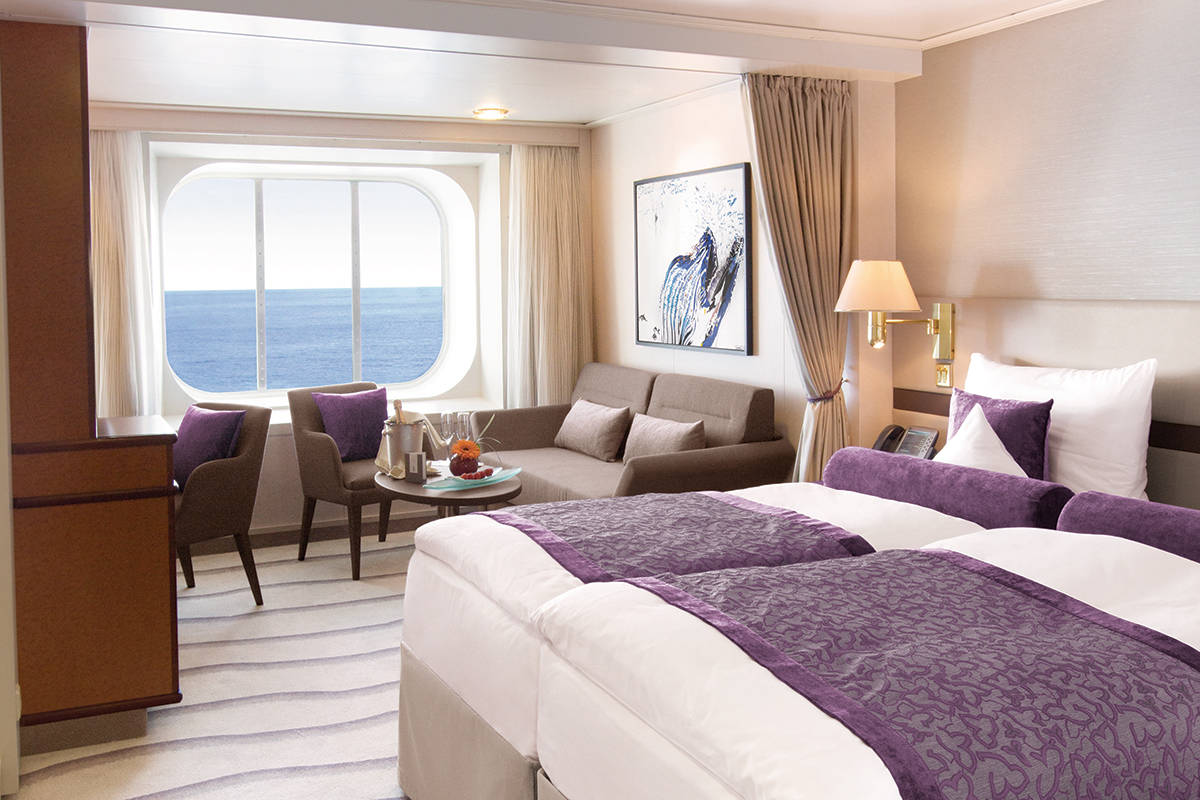 Your suite is a place where you can feel completely at home. An inspiring colour palette, cosy lighting and carefully selected interior decor combine to create a pleasant atmosphere of well-being. Featuring a panorama window with a view that changes every day.

* 27 m² (290 ft²) Suite with a panorama window
* 24-hour suite service
* Visually divided living and sleeping area
* Bathroom with shower and bathtub
* Walk-in wardrobe
* Free mini bar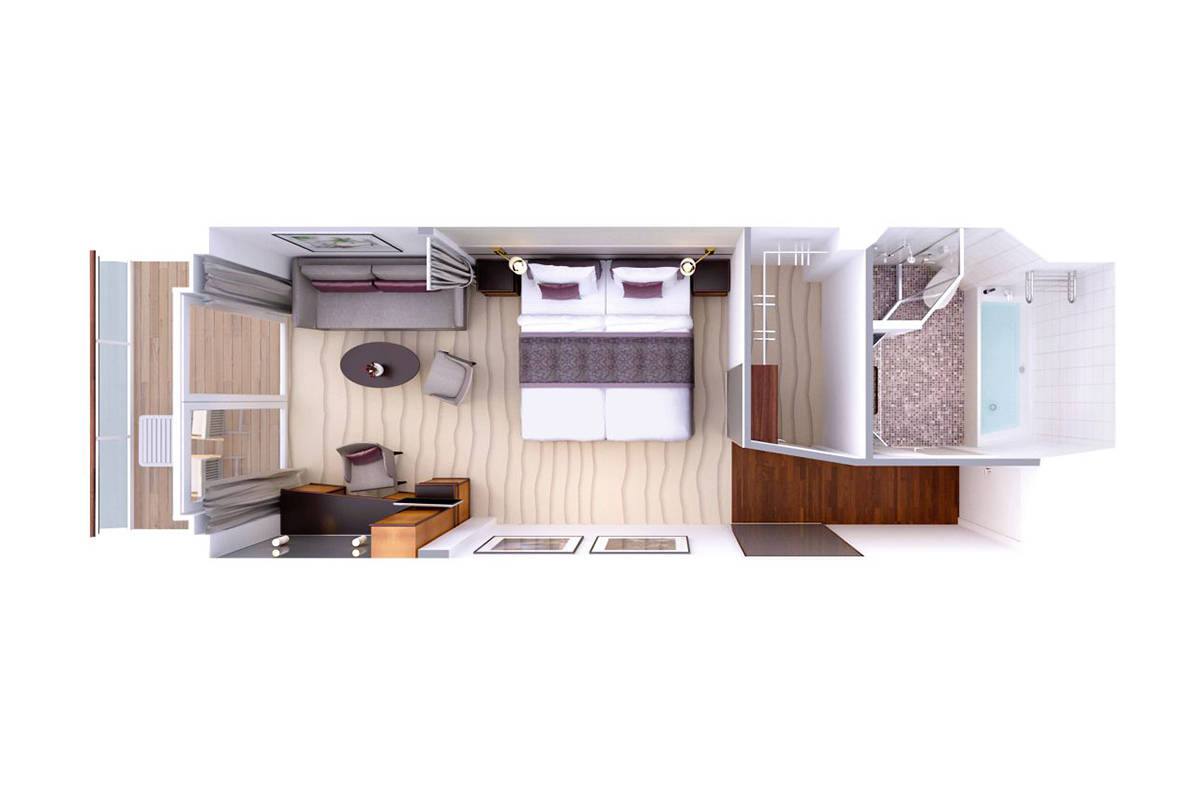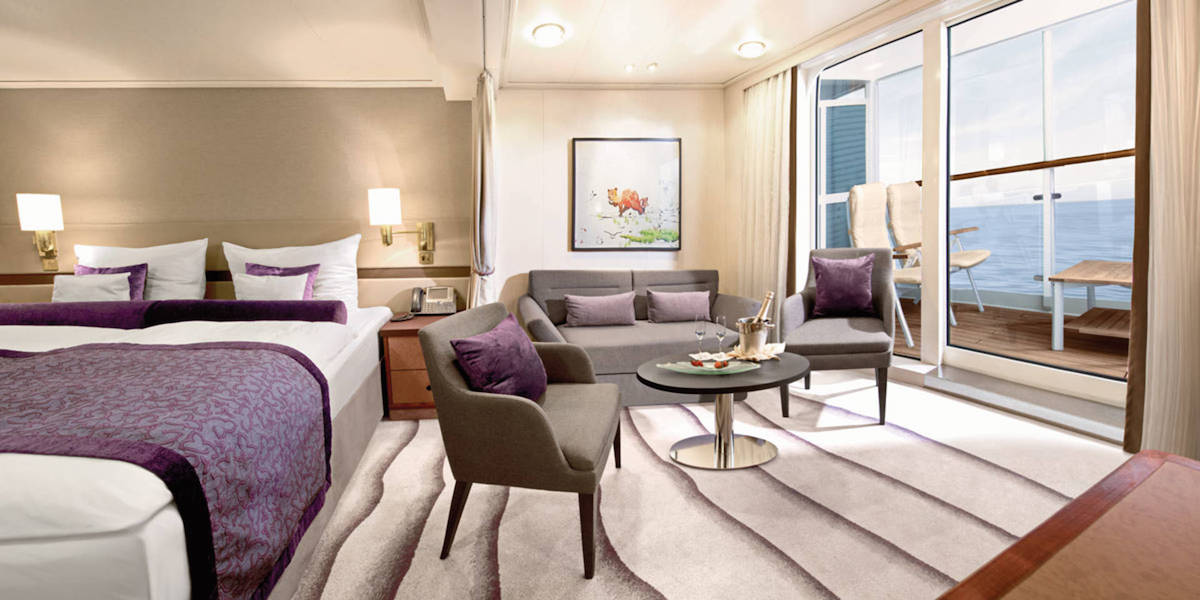 With their subtle colours, harmonious design and visually divided living and sleeping areas, the Veranda Suites fulfil your requirements for a cosy, private retreat. Additional connecting doors in some suites provide the option of making your family cruise even more comfortable.

* 27 m² (290 ft²) suite with a veranda
* 24-hour suite service
* Visually divided living and sleeping area
* Bathroom with shower and bathtub
* Walk-in wardrobe
* Free mini bar
* Some suites can be booked with connecting doors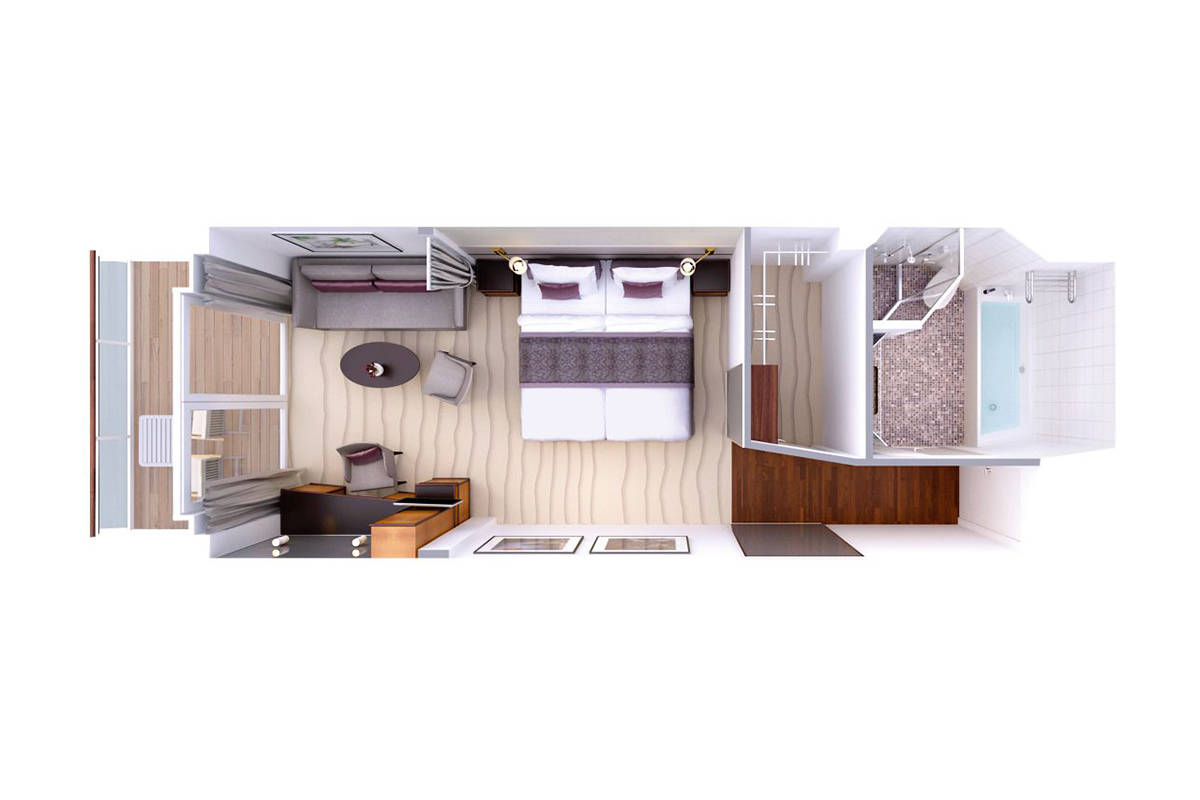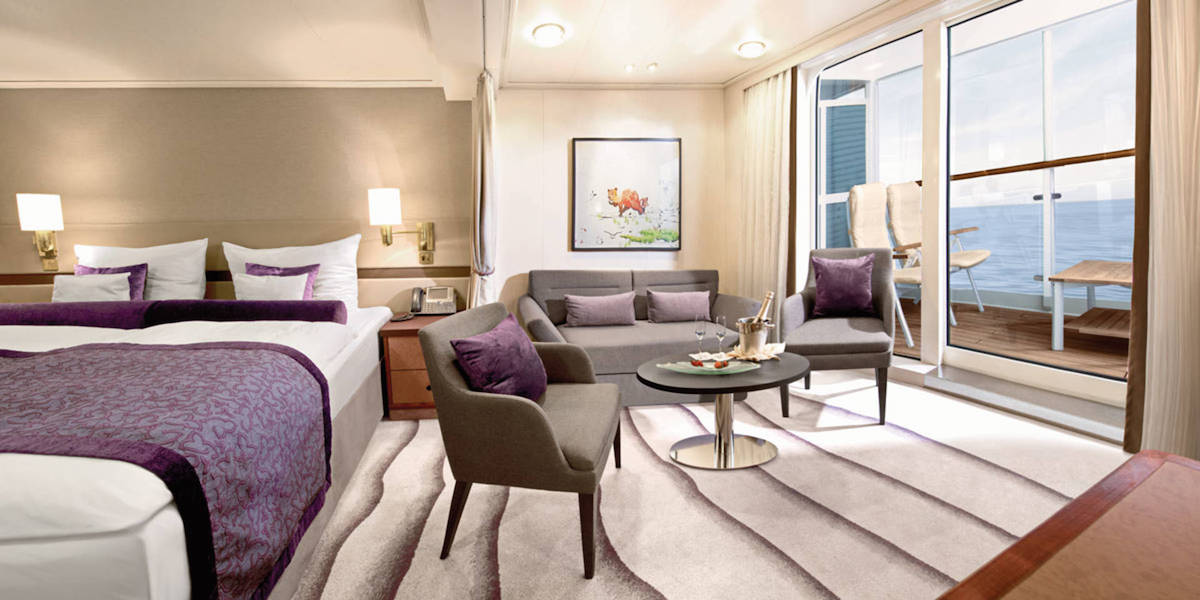 With their subtle colours, harmonious design and visually divided living and sleeping areas, the Veranda Suites fulfil your requirements for a cosy, private retreat. Additional connecting doors in some suites provide the option of making your family cruise even more comfortable.

* 27 m² (290 ft²) suite with a veranda
* 24-hour suite service
* Visually divided living and sleeping area
* Bathroom with shower and bathtub
* Walk-in wardrobe
* Free mini bar
* Some suites can be booked with connecting doors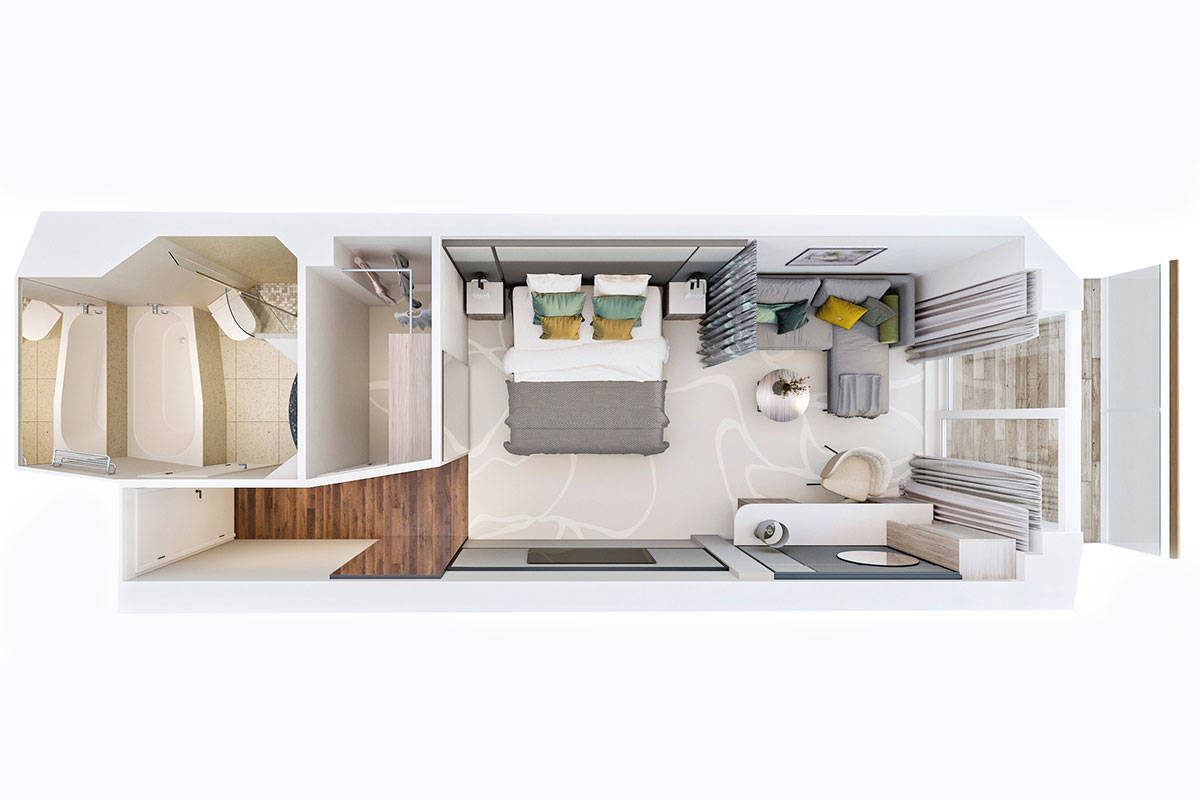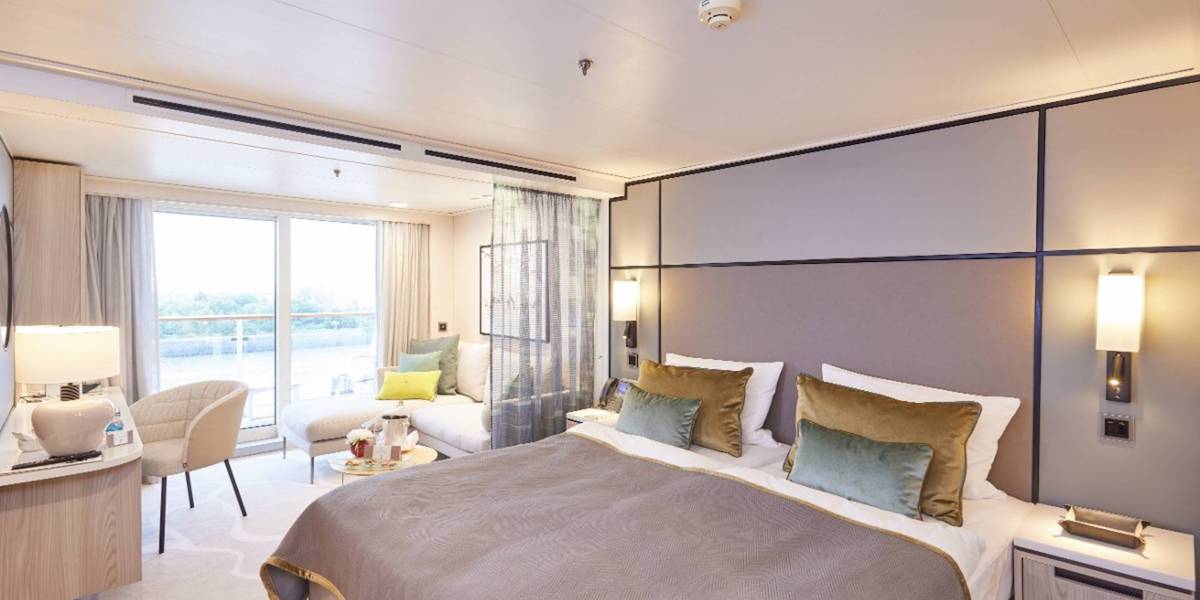 A modern suite with an elegant design, stylishly furnished to the last detail. Enjoy total privacy while taking in the view from your very own veranda.

* 27 m² (290 ft²) suite with a veranda (cat. 6-7)
* 24-hour suite service
* Visually divided living and sleeping area; bathroom with bathtub ans seperate shower; walk-in wardrobe
* Nespresso machine
* One hour of free Internet per day
* Free mini bar that is refilled daily with water, juices, soft drinks and beer
* Some suites can be booked with connecting doors or are equipped for use by disabled guests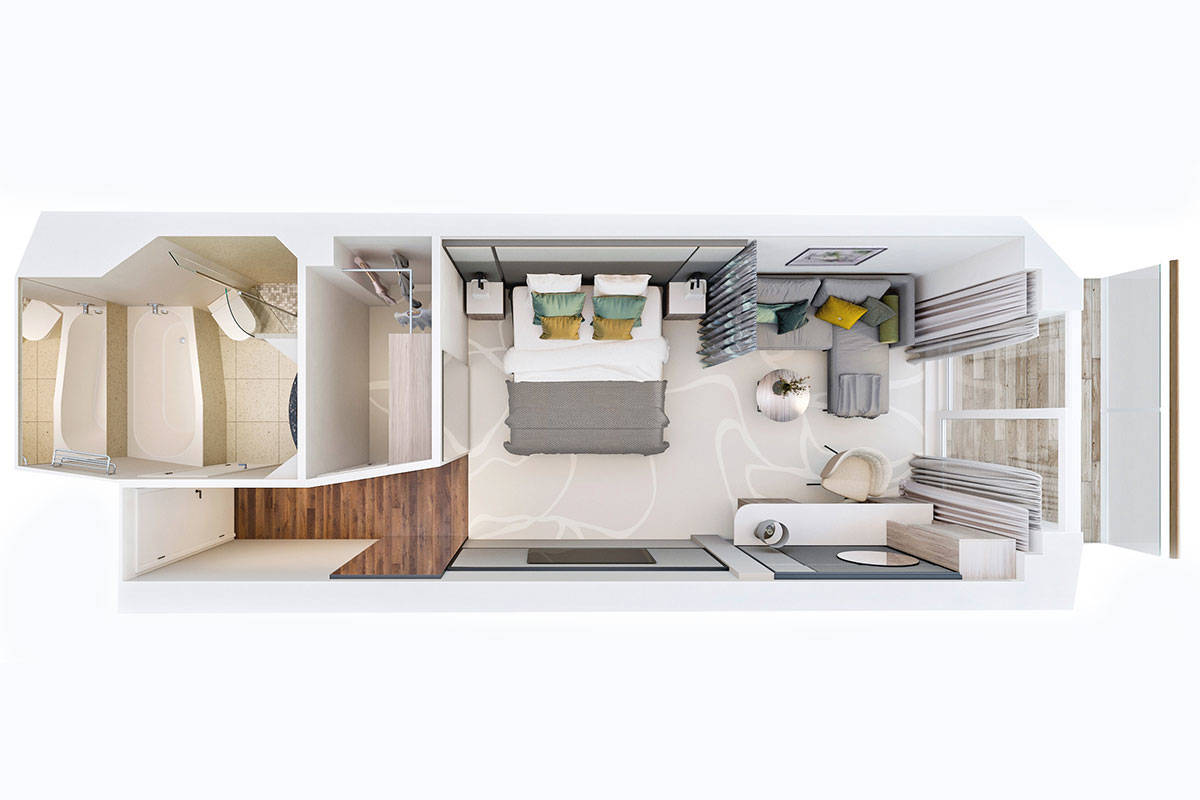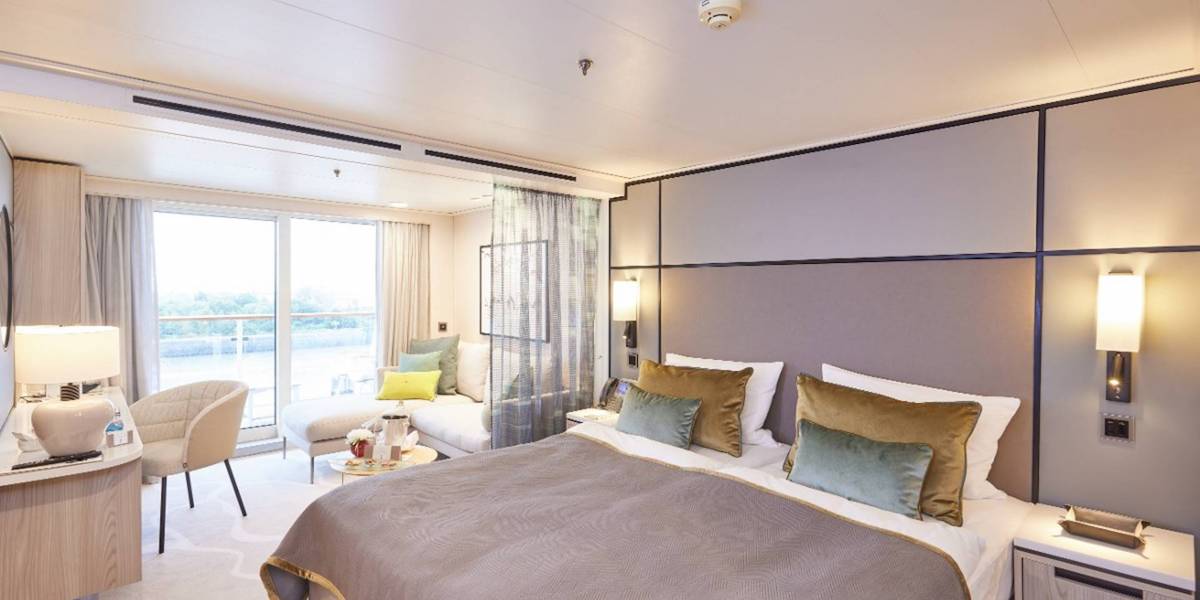 A modern suite with an elegant design, stylishly furnished to the last detail. Enjoy total privacy while taking in the view from your very own veranda.

* 27 m² (290 ft²) suite with a veranda (cat. 6-7)
* 24-hour suite service
* Visually divided living and sleeping area; bathroom with bathtub ans seperate shower; walk-in wardrobe
* Nespresso machine
* One hour of free Internet per day
* Free mini bar that is refilled daily with water, juices, soft drinks and beer
* Some suites can be booked with connecting doors or are equipped for use by disabled guests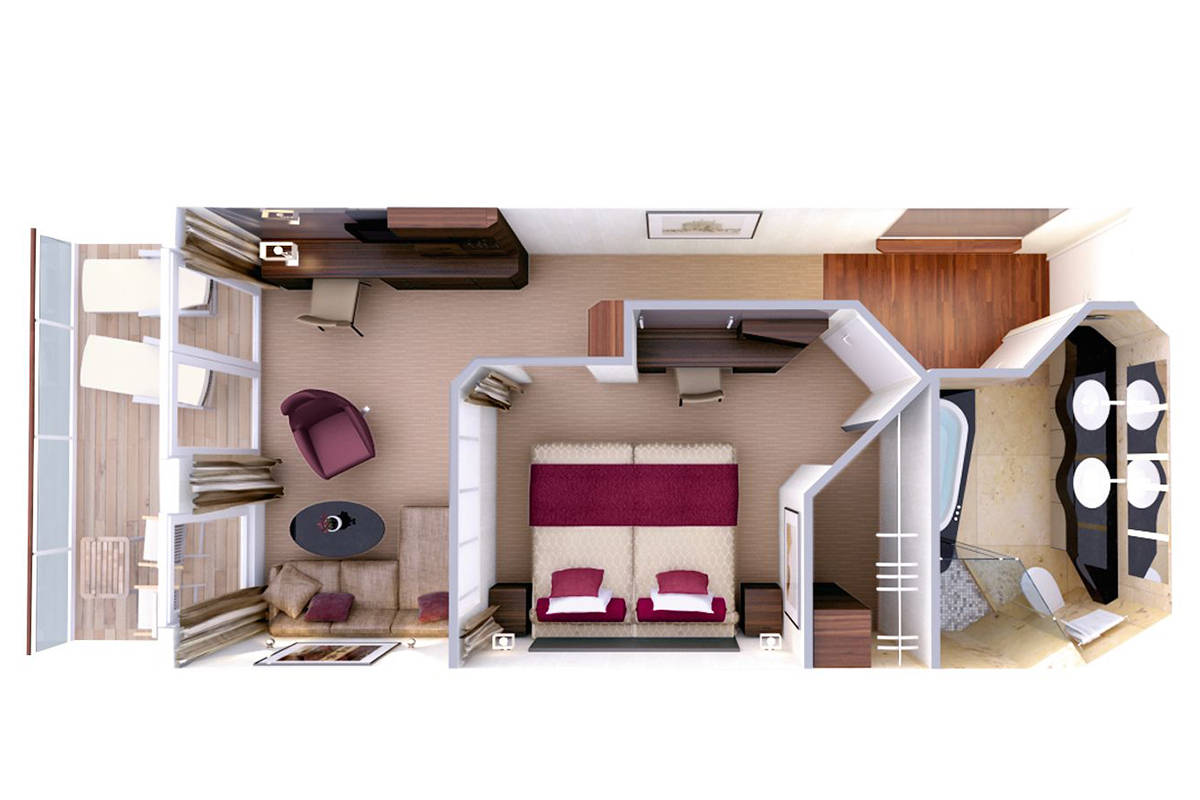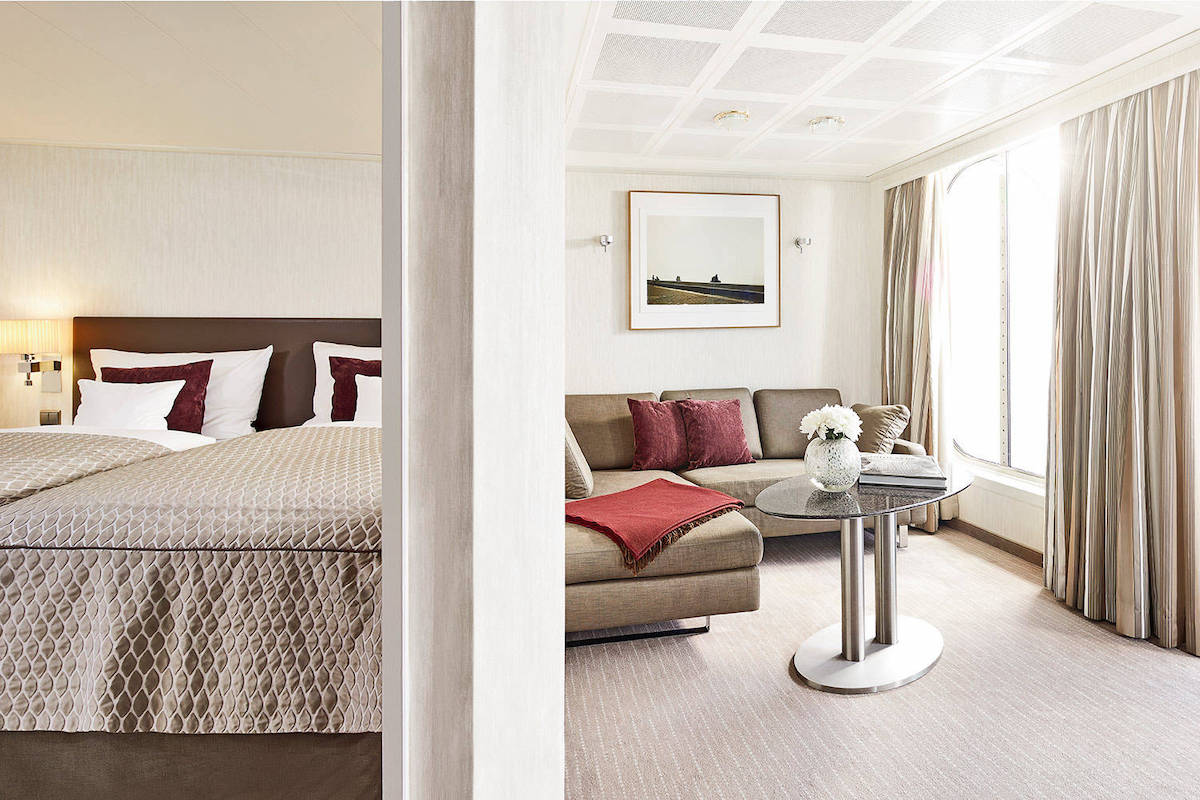 In the relaxed atmosphere of your suite, it is our pleasure to pamper you with gourmet snacks or a glass of champagne, for example. Whether you prefer to dream away the day in the cosy lounge or on your private veranda, the choice is yours - either way, you will be able to enjoy an ocean view.

* 45 m² (484 ft²) Penthouse Deluxe Suite with a veranda
butler service
* 24-hour suite service
* Separate living and sleeping areas; bathroom with underfloor heating, two washbasins, whirlpool bath and seperate shower; walk-in wardrobe; tablet; Nespresso machine
* Free mini bar that is refilled daily with water, juices, soft drinks, beer and a selection of high-quality spirits
* Includes service privileges such as free internet access, an ironing service, fresh canapes and chocolates every day
* On-board table reservations for the gourmet restaurant The Globe by Kevin Fehling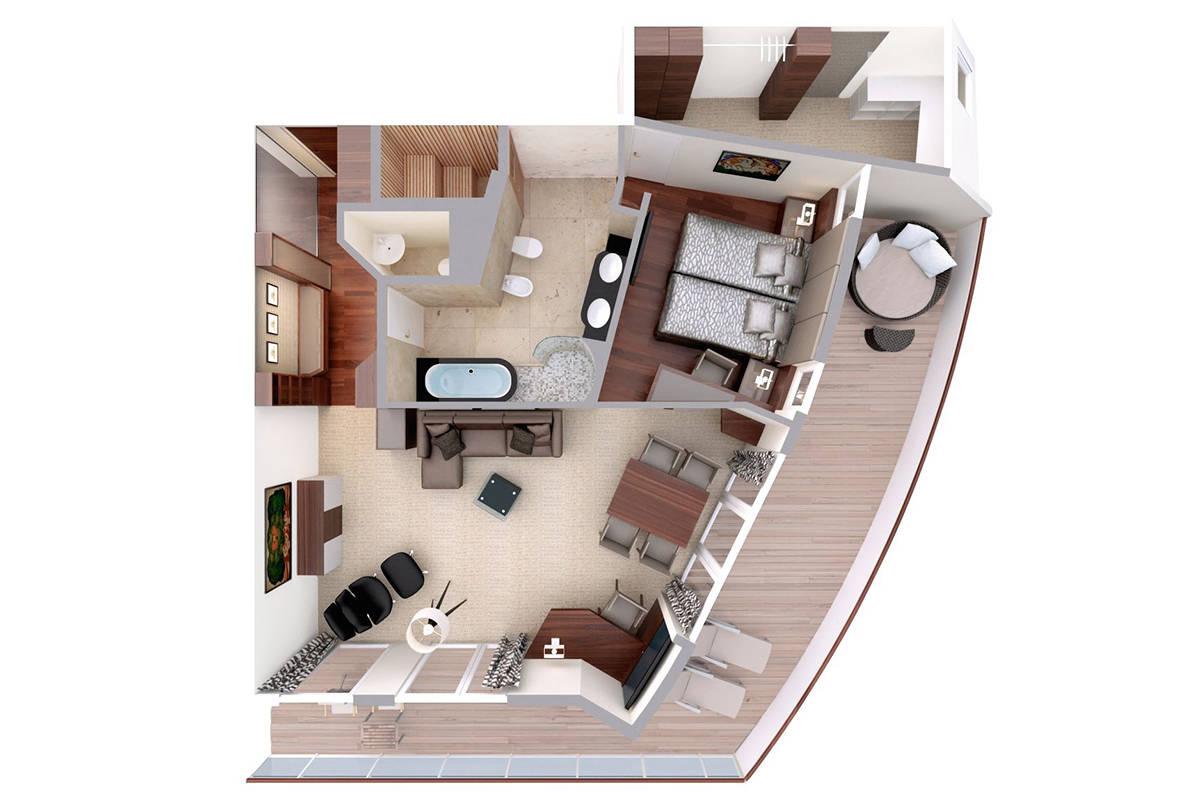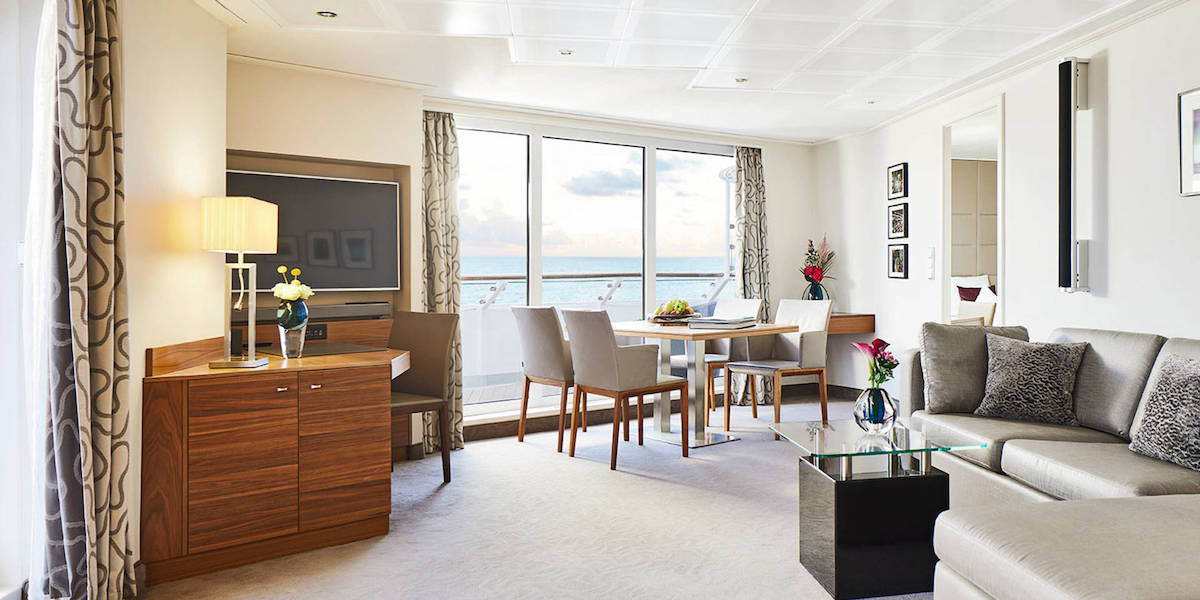 Spend your cruise enjoying the privileged panoramic view that the captain has - and the service of your own personal butler. Luxury living above the ship's bridge.

* 85 m2 (915 sq ft) Penthouse Grand Suite with a spacious, partly covered veranda featuring a
* Dedon sofa island
* Separate living and sleeping area
* Inviting dining area with a dining table for up to six people
* Bathroom with heated floor, two washbasins, a floor-level shower, a whirlpool bath and a private sauna; separate guest toilet
* Spacious walk-in wardrobe
* 24-hour butler service
* Free mini bar (incl. a selection of high-quality spirits)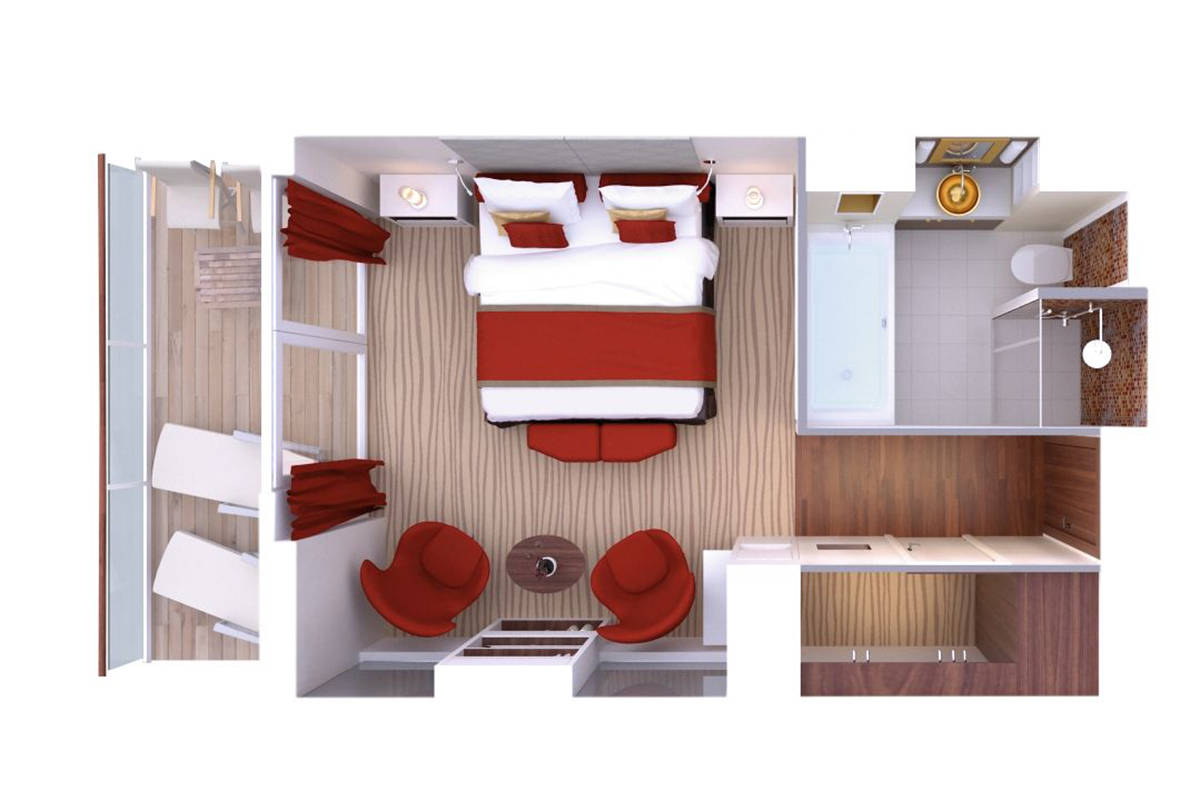 The modern living and sleeping areas feature a contemporary design. Light-coloured wood furniture further accentuates the spaciousness of the light-filled room. The whirlpool bath with optional lighting provides a special opportunity for relaxation – and the large window with a Venetian blind means you can enjoy the fantastic views from the bath as well.

* 27 m² (290 ft²) SPA Suite with a veranda
* 24-hour suite service
* Includes SPA pamper package
Bathroom with natural light, ocean view and whirlpool bath; walk-in wardrobe; tablet; Nespresso machine
Free internet
* Free mini bar that is refilled daily with water, juices, soft drinks, beer and a selection of high-quality spirits
* Choice of SPA drinks, including smoothies, fresh fruit juices and herbal teas, fresh canapes and chocolates every day
Ironing service
* On-board table reservations for the gourmet restaurant The Globe by Kevin Fehling