Cruise Itinerary
| Date | Port | Arrive | Depart |
| --- | --- | --- | --- |
| 27 Nov 2022 | Vilshofen, Germany | | |
| 28 Nov 2022 | Passau, Germany | | |
| 29 Nov 2022 | Linz, Austria | | |
| 30 Nov 2022 | Weissenkirchen, Austria | | |
| 1 Dec 2022 | Vienna, Austria | | |
| 2 Dec 2022 | Vienna, Austria | | |
| 3 Dec 2022 | Esztergom, Hungary | | |
| 3 Dec 2022 | Budapest, Hungary | | |
| 4 Dec 2022 | Budapest, Hungary | | |
7 Night Cruise sailing from Vilshofen to Budapest aboard AmaLea.

Day 1 VILSHOFEN, GERMANY - EMBARKATION.
Board the ship in Vilshofen for your Christmas Markets on the Danube cruise. Then, join Vilshofen locals and fellow guests for a glass of beer and a traditional German pretzel ashore at a festive Oktoberfest celebration. (D)

Day 2 PASSAU, GERMANY
During the season of Advent, beautiful Passau dresses in her Bavarian holiday splendor, which you will discover on your walking tour through the city and at its Christmas market at St. Stephen's Square—also home to its magnificent cathedral. Go in search of unique crafts, including Bavarian-style houses and glass ornaments. (B,L,D)

Day 3 LINZ, AUSTRIA
Linz is known for being the city of Christmas crèches and its ever-popular Linzer torte. While here, you have a choice excursions. The first is a morning walking tour through Linz's old city center and by the Mozart House, where he composed the Linz Symphony in only three days, as well as visit Linz's Christmas markets. Or you could go on a guided bike tour along the Danube River. Alternatively, enjoy a full-day in Salzburg with a walking tour in the historic center, famous for its religious history, Baroque architecture, and as the birthplace of Mozart. While there, visit the beautiful Christmas Markets, renowned for local handicrafts and unusual holiday presents. During the afternoon, you can visit the charming mountain town, Česky Krumlov, located just over the Czech-Austrian border. (B,L,D)

Day 4 WEISSENKIRCHEN, AUSTRIA
After reaching Weissenkirchen, you'll have a choice of excursions. Join a walking tour in Dürnstein and then visit the magnificent Benedictine Abbey of Melk. For a more active adventure, bike along the Danube River or hike up to Dürnstein Fortress where Richard the Lionheart was once held captive and enjoy incredible views of the river and village below. Alternatively, you can visit a local boutique where you'll enjoy a tasting of special apricot treats. If you're a wine connoisseur, you won't want to miss the excursion to a local winery where you can sample some of the Wachau Valley's finest wine. (B,L,D)

Day 5 VIENNA, AUSTRIA
The "City of Waltzes" offers a treasure trove of gems just waiting to be discovered. Join a tour showcasing its regal splendors, such as the majestic Opera House and the former Imperial Palace of the Habsburgs, before concluding in Vienna's historic city center. If you prefer a more active adventure, join a guided bike ride through Vienna. Then spend the afternoon at the Schonbrunn Christmas Markets and catch a glimpse of the giant sparkling Christmas tree, followed by a free evening on your own. (B,L,D)

Day 6 VIENNA, AUSTRIA
Enjoy a Bratislava city tour, including a visit to Bratislava's charming Christmas Market, or an invigorating castle hike from Vienna up to Bratislava castle and see such sights as the tree-lined Hviezdoslav Square, the narrow House of the Good Shepherd, Michael's Gate and the Old Town Hall. As an alternative, visit the Austrian palace of Schloss Hof, located near the Slovakian border. In the evening, explore Vienna's festive Christmas Markets. (B,L,D)

Day 7 ESZTERGOM – BUDAPEST, HUNGARY
Home to several UNESCO World Heritage Sites, including the Buda Castle quarter in Castle Hill and Heroes' Square, Budapest offers an unmatched combination of culture and tradition. The remainder of this tour takes you to both the Buda (hilly) and the Pest (flat) sides of the river. Afterwards, you'll visit Vorosmarty Square, the oldest, richest and the most spectacular of all the Christmas markets in Budapest. As an alternative, you can hike to Castle Hill, walking along Fishermen's Bastion and take in all the iconic sites of Budapest with an active exploration. (B,L,D)

Day 8 BUDAPEST – DISEMBARKATION
Disembark the ship in Budapest and bid farewell as you prepare for your return flight home. (B)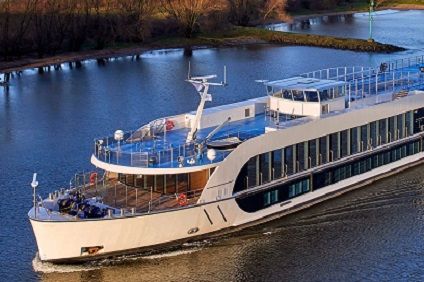 The AmaLea – set to debut in 2018 – is a sister ship to the AmaKristina and features the most advanced design of any river cruise vessel currently in operation. Our exclusive Twin Balconies are available in most staterooms, which measure a spacious 210-235 sq. feet, with four suites measuring 350 sq. feet. Passengers will enjoy gourmet dining with free-flowing fine wines at multiple onboard dining venues; a heated sun deck swimming pool with a 'swim-up' bar; fitness center and spa; complimentary ship-wide Wi-Fi and in-room Internet and entertainment on demand; and a fleet of bicycles carried onboard for passengers to enjoy on their own or on guided bike tours.
Ship Profile & Stats
Maiden voyage: 2018
Length: 443 ft
Beam: 38 ft
Ship registration: Switzerland
Ship Amenities
In-room temperature control
Hair Dryer
Safe
Direct-dial Telephone
Flat-screen TV that also works as a computer
Entertainment on Demand system providing complimentary TV, movies and music library
Complimentary bottled water replenished daily
Complimentary internet and Wi-Fi
Ship Facilities
Heated Pool with Swim-Up Bar
Fitness Centre
Spa
Complimentary Ship-wide Wi-Fi
Bicycles
Main Restaurant
The Chef's Table
Main Lounge and Bar
Massage Services
Hair Salon
Sun Deck
Walking Track
Al Fresco Terrace
Observation Lounge
Gift Shop
Family-owned and operated AmaWaterways was founded in 2002 by three families; however, their river cruise story began well before that. Co-Founder and President Rudi Schreiner was born in Vienna, at the heart of the Danube. His love of design drew him to architecture, but his even greater love of travel drew him to places far and wide. In 1975, he traveled to South America for a journalism assignment on the Amazon. It was here he designed his first ship, using what he could find to build a raft that would take him up and down the river during the next 7 months. Soon thereafter, he started working in travel, creating unique tour experiences in Europe.
From the beginning, the AMA Waterways goal was to create a river cruise company that the founders themselves would enjoy. To them, that meant the highest-quality, locally sourced food and wine; elegantly appointed ships with staterooms offering maximum views to enjoy the ever-changing countryside; and a crew who goes above and beyond, treating every guest like they are part of the family.
With that in mind AMA Waterways have been building one-of-a-kind ships with added comforts and conveniences ranging from their signature view-enhancing twin balconies to the one-and-only Chef's Table specialty restaurant to the award-winning AmaMagna – redefining the river cruise experience.
An AmaWaterways river cruise is about more than the destination – it's the journey. We invite you to take one of our European river cruises or Asia river cruises and see the world in luxury and comfort. River cruising Europe with AmaWaterways is an excellent way to explore a destination. Discover local culture and sights on included tours, and then hop back on your luxurious river cruise ship and sail to the next stunning city or charming town. Included in the fares of our river cruises are shore excursions in every port of call; all dining on board (including The Chef's Table specialty restaurant); fine wine, beer and soft drinks with lunch and dinner; internet access and Wi-Fi; and bicycles that you can use to explore on your own or join our guided bike tours.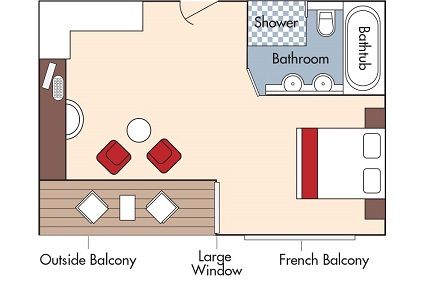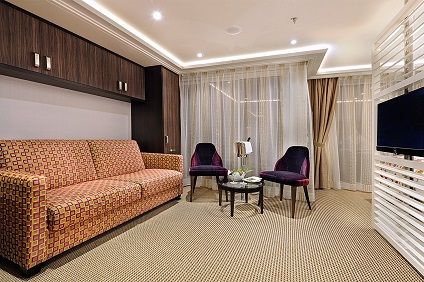 Suite Violin Deck French Balcony & Outside Balcony, 350 sq. ft. STATEROOM FEATURES:

In-room temperature control
Deluxe hotel-style bedding with Egyptian linen, down pillows and duvet
Spacious bathrooms with multi-jet showerheads
Large wardrobe, full-length mirror, hair dryer, safe and direct-dial telephone

Flat-screen TV that also works as a computer
Entertainment on Demand system providing complimentary TV, movies and music library
Complimentary internet and Wi-Fi
Complimentary bottled water replenished daily
Desk and chair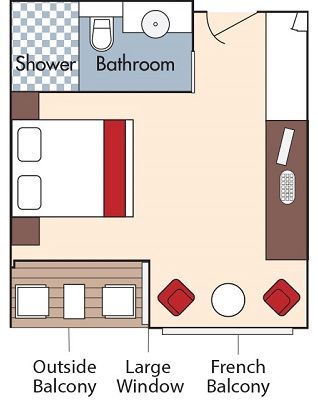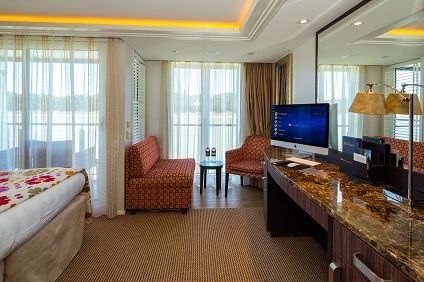 Violin Deck French Balcony & Outside Balcony, 235 sq. ft. STATEROOM FEATURES:

In-room temperature control
Deluxe hotel-style bedding with Egyptian linen, down pillows and duvet
Spacious bathrooms with multi-jet showerheads
Large wardrobe, full-length mirror, hair dryer, safe and direct-dial telephone

Flat-screen TV that also works as a computer
Entertainment on Demand system providing complimentary TV, movies and music library
Complimentary internet and Wi-Fi
Complimentary bottled water replenished daily
Desk and chair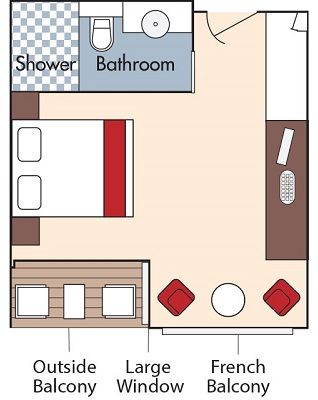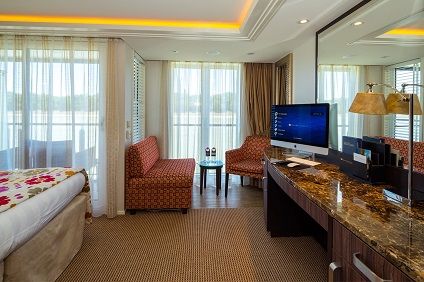 Cello Deck French Balcony & Outside Balcony, 235 sq. ft. STATEROOM FEATURES:

In-room temperature control
Deluxe hotel-style bedding with Egyptian linen, down pillows and duvet
Spacious bathrooms with multi-jet showerheads
Large wardrobe, full-length mirror, hair dryer, safe and direct-dial telephone

Flat-screen TV that also works as a computer
Entertainment on Demand system providing complimentary TV, movies and music library
Complimentary internet and Wi-Fi
Complimentary bottled water replenished daily
Desk and chair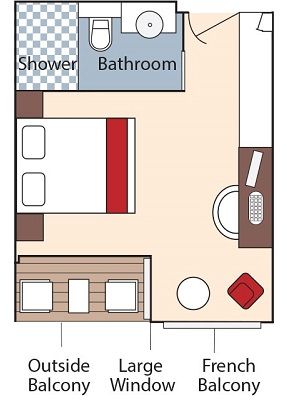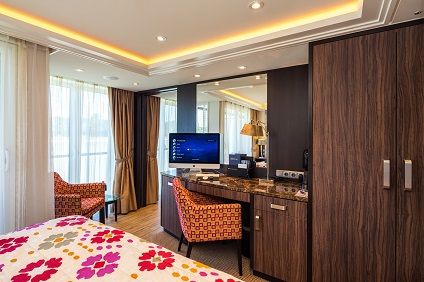 Violin Deck French Balcony & Outside Balcony, 210 sq. ft. STATEROOM FEATURES:

In-room temperature control
Deluxe hotel-style bedding with Egyptian linen, down pillows and duvet
Spacious bathrooms with multi-jet showerheads
Large wardrobe, full-length mirror, hair dryer, safe and direct-dial telephone

Flat-screen TV that also works as a computer
Entertainment on Demand system providing complimentary TV, movies and music library
Complimentary internet and Wi-Fi
Complimentary bottled water replenished daily
Desk and chair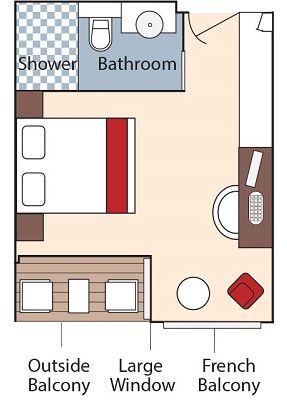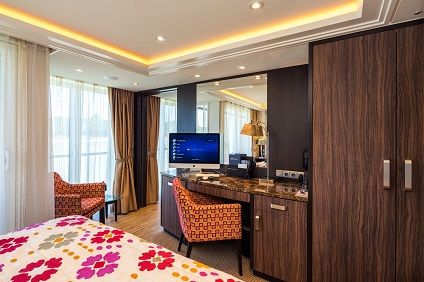 Cello Deck French Balcony & Outside Balcony, 210 sq. ft. STATEROOM FEATURES:

In-room temperature control
Deluxe hotel-style bedding with Egyptian linen, down pillows and duvet
Spacious bathrooms with multi-jet showerheads
Large wardrobe, full-length mirror, hair dryer, safe and direct-dial telephone

Flat-screen TV that also works as a computer
Entertainment on Demand system providing complimentary TV, movies and music library
Complimentary internet and Wi-Fi
Complimentary bottled water replenished daily
Desk and chair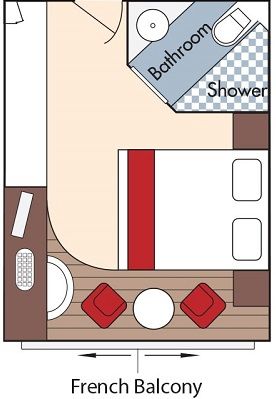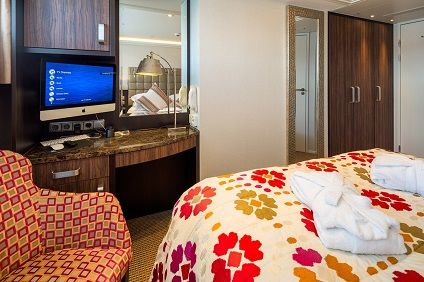 Violin & Cello Deck French Balcony, 170 sq. ft. STATEROOM FEATURES:

In-room temperature control
Deluxe hotel-style bedding with Egyptian linen, down pillows and duvet
Spacious bathrooms with multi-jet showerheads
Large wardrobe, full-length mirror, hair dryer, safe and direct-dial telephone

Flat-screen TV that also works as a computer
Entertainment on Demand system providing complimentary TV, movies and music library
Complimentary internet and Wi-Fi
Complimentary bottled water replenished daily
Desk and chair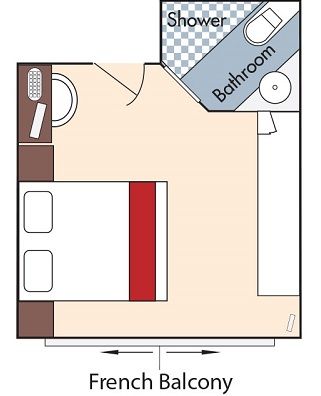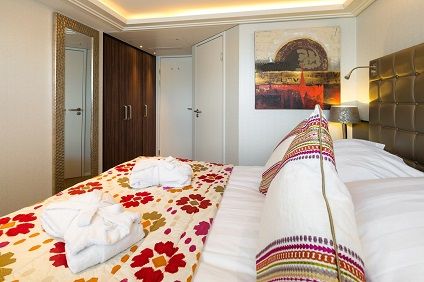 Violin Deck French Balcony, 155 sq. ft. STATEROOM FEATURES:

In-room temperature control
Deluxe hotel-style bedding with Egyptian linen, down pillows and duvet
Spacious bathrooms with multi-jet showerheads
Large wardrobe, full-length mirror, hair dryer, safe and direct-dial telephone

Flat-screen TV that also works as a computer
Entertainment on Demand system providing complimentary TV, movies and music library
Complimentary internet and Wi-Fi
Complimentary bottled water replenished daily
Desk and chair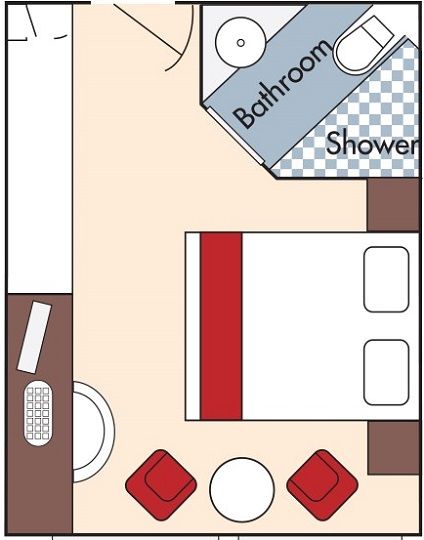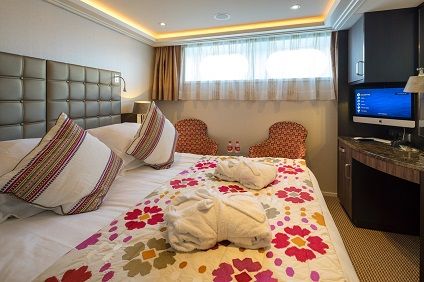 Piano Deck Fixed Windows, 160 sq. ft. STATEROOM FEATURES: In-room temperature control Deluxe hotel-style bedding with Egyptian linen, down pillows and duvet Spacious bathrooms with multi-jet showerheads Large wardrobe, full-length mirror, hair dryer, safe and direct-dial telephone Flat-screen TV that also works as a computer Entertainment on Demand system providing complimentary TV, movies and music library Complimentary internet and Wi-Fi Complimentary bottled water replenished daily Desk and chair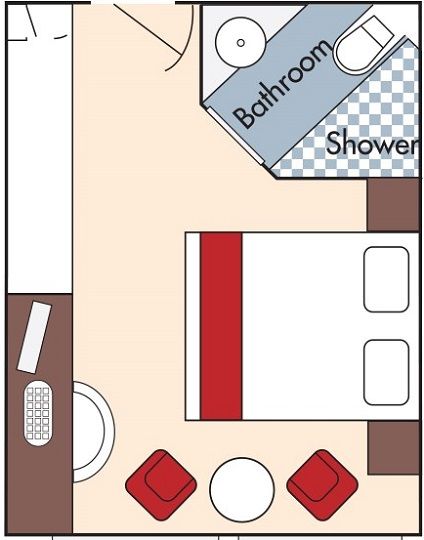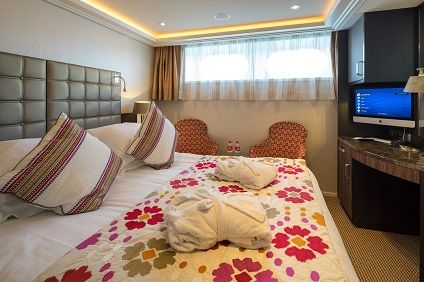 Piano Deck Fixed Windows, 160 sq. ft.
STATEROOM FEATURES:


In-room temperature control
Deluxe hotel-style bedding with Egyptian linen, down pillows and duvet
Spacious bathrooms with multi-jet showerheads
Large wardrobe, full-length mirror, hair dryer, safe and direct-dial telephone

Flat-screen TV that also works as a computer
Entertainment on Demand system providing complimentary TV, movies and music library
Complimentary internet and Wi-Fi
Complimentary bottled water replenished daily
Desk and chair