Cruise Itinerary
| Date | Port | Arrive | Depart |
| --- | --- | --- | --- |
| 27 Nov 2022 | Passau, Germany | | |
| 28 Nov 2022 | Passau, Germany | | |
| 29 Nov 2022 | Linz, Austria | | |
| 30 Nov 2022 | Krems, Austria | | |
| 1 Dec 2022 | Vienna, Austria | | |
| 2 Dec 2022 | Bratislava, Slovakia | | |
| 3 Dec 2022 | At Sea | | |
| 4 Dec 2022 | Budapest, Hungary | | |
| 5 Dec 2022 | Budapest, Hungary | | |
Soak up soothing steam at a Budapest thermal bath. Learn to waltz at a Viennese dance school. Savor Austro-Hungarian cuisine in Vienna and Budapest. Admire the Wachau Valley's beauty. Explore lesser-known Central European cities like Bratislava and Passau. Witness daily life in an abbey on an exclusive visit to Göttweig. This 8-day itinerary reveals the best of these places, while cruising leisurely through spectacular scenery.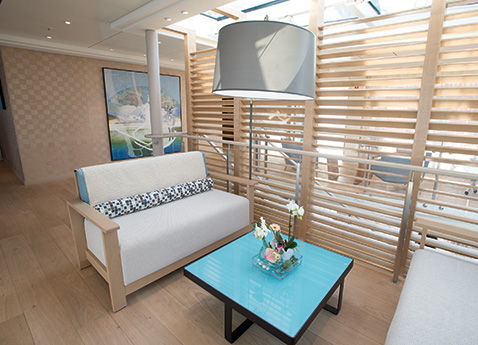 Viking River Cruises boasts the most extensive fleet of river cruises vessels, and we are proud to offer you the best ships in each region where we travel. Viking ships are specially designed to navigate the world's great rivers and provide convenient daily access to a plethora of destinations and experiences. Enjoy all the comfort and elegance of river cruising: attentive and professional staff, delicious onboard meals and spectacular scenery from every stateroom and public area.

Sailing our most popular itineraries, our award-winning Viking Longships® showcase innovative engineering, streamlined design and understated elegance for the most comfortable river cruise experience available.

Ship Features:

* 95 comfortable outside staterooms (2 Explorer Suites, 7 Veranda Suites, 39 Veranda Staterooms, 22 French Balcony Staterooms, 25 Standard Staterooms)
* All suites feature two rooms with a veranda off the living room and a French balcony in the bedroom
* Sun deck with 360-degree views and shaded sitting area; organic herb garden and solar panels; putting green, and walking track
* Aquavit Terrace with a revolutionary indoor/outdoor viewing area at the bow of the ship and grills for al fresco dining
* The Lounge and bar with floor-to-ceiling glass doors
* Restaurant with floor-to-ceiling windows for panoramic views
* Library corner and onboard boutique
* Elevator from Middle to Upper Deck only; no elevator access for categories F and E
* Free shipwide wireless Internet service
* Laundry service
* Ecologically friendly hybrid engines producing less vibrations for a smoother ride
* 40" flat-panel Sony TV with infotainment system featuring movies on demand plus CNBC, CNN, National Geographic and more
Ship Profile & Stats
Maiden voyage: 2013
Passenger capacity (dbl): 190
Crew nationality: European
Officer nationality: European
Dining nationality: European
Ship Amenities
Bottled Water Replenished Daily
Hair Dryer
Safe
Individual Climate Control
Refrigerator
Flat Panel Television
Telephone
Voltage: 220V and 110V in stateroom
Ship Facilities
Aquavit Terrace
Free Shipwide Wireless Internet Service
Laundry Service
Library
Observation Lounge & Bar
Restaurant
Boutique
Sun Deck
When it comes to river cruising, Viking River Cruises is the world leader. From Europe to Russia, from China to Southeast Asia, we offer cruises that allow you to fully experience the wonders of each region. Discover the Far East with a fascinating cruisetour along the Yangtze, Mekong or Irrawaddy Rivers. Take in the European countryside along the Danube, Rhine, Seine, Elbe or Douro. Our river cruises are a great way to explore new places or see a new side of a familiar destination. And a river cruise offers unrivaled convenience - unpack once in your deluxe stateroom, relax and enjoy everything the journey has to offer. State-of-the-art ships, comfortable accommodations, regional cuisine, daily guided shore excursions, and exemplary service all add up to an unforgettable journey at an incredible value.
Viking Cruises continues the Viking tradition of exploration along the world's great waterways.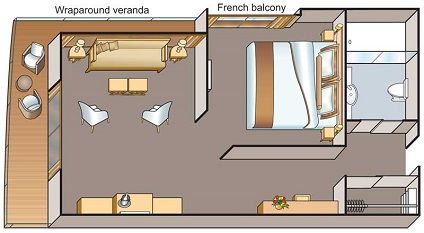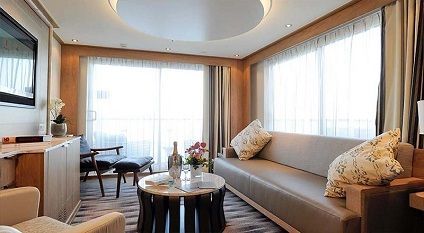 Features

* Suite size: 445 sq. ft.
* Hotel-style beds 79 inches x 63 inches (with optional twin-bed configuration)
* Private wraparound veranda off the spacious living room offers 270-degree views
* Floor-to-ceiling sliding glass doors, known as a French balcony, in the bedroom
* Large bathroom with double sinks, shower, heated mirror & floor, premium bath products
* Telephone, refrigerator, safe, hair dryer & bottled water replenished daily
* Bathrobe and slippers available upon request
* Individual climate control
* Space under bed for storing suitcases
* Roomy wardrobe with wooden hangers
* Voltage: 220V and 110V in stateroom
* Sony 26-inch flat-panel TV with premium entertainment package including: CNBC, CNN, Fox News, ESPN, National Geographic, MGM Movies, Sky Cinema, videos on demand and "View From the Bridge"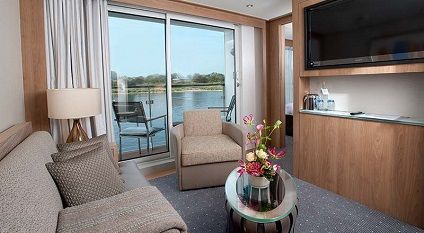 Features

* Suite size: 275 sq. ft.
* Hotel-style beds 79 inches x 63 inches (with optional twin-bed configuration)
* Full-size veranda off the spacious living room
* Floor-to-ceiling sliding glass doors, known as a * French balcony, in the bedroom
* Large private bathroom with shower and premium bath products
* Telephone, refrigerator, safe, hair dryer & bottled water replenished daily
* Bathrobe and slippers available upon request
* Individual climate control
* Space under bed for storing suitcases
* Roomy wardrobe with wooden hangers
* Voltage: 220V and 110V in stateroom
* Sony 26-inch flat-panel TV with premium entertainment package including: CNBC, CNN, Fox News, ESPN, National Geographic, MGM Movies, Sky Cinema, videos on demand and "View From the Bridge"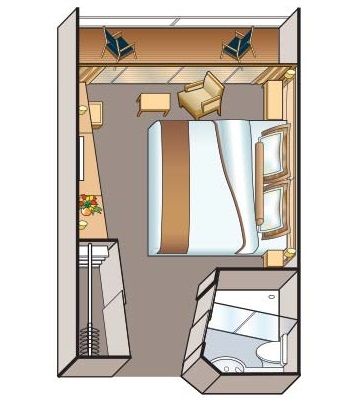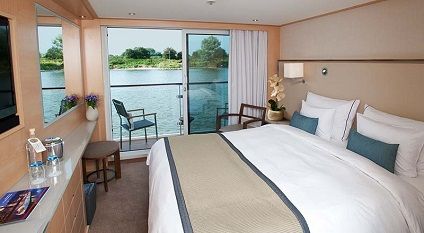 Features

* Stateroom size: 205 sq. ft.
* Hotel-style beds 79 inches x 63 inches (with optional twin-bed configuration)
* Floor-to-ceiling sliding glass doors open to a full-size veranda
* Private bathroom with shower and premium bath products
* Telephone, refrigerator, safe, hair dryer & bottled water replenished daily
* Bathrobe and slippers available upon request
* Individual climate control
* Space under bed for storing suitcases
* Roomy wardrobe with wooden hangers
* Voltage: 220V and 110V in stateroom
* Sony 26-inch flat-panel TV with premium entertainment package including: CNBC, CNN, Fox News, ESPN, National Geographic, MGM Movies, Sky Cinema, videos on demand and "View From the Bridge"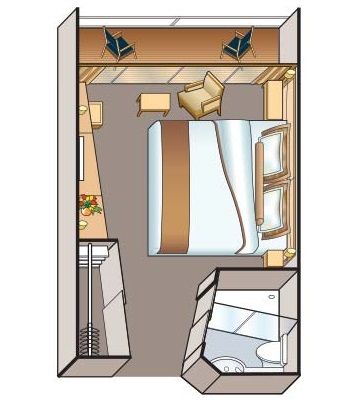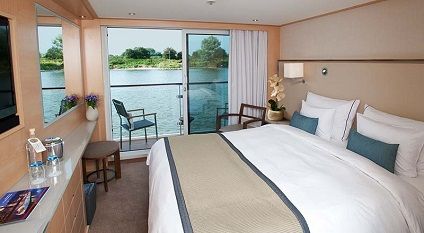 Features

* Stateroom size: 205 sq. ft.
* Hotel-style beds 79 inches x 63 inches (with optional twin-bed configuration)
* Floor-to-ceiling sliding glass doors open to a full-size veranda
* Private bathroom with shower and premium bath products
* Telephone, refrigerator, safe, hair dryer & bottled water replenished daily
* Bathrobe and slippers available upon request
* Individual climate control
* Space under bed for storing suitcases
* Roomy wardrobe with wooden hangers
* Voltage: 220V and 110V in stateroom
* Sony 26-inch flat-panel TV with premium entertainment package including: CNBC, CNN, Fox News, ESPN, National Geographic, MGM Movies, Sky Cinema, videos on demand and "View From the Bridge"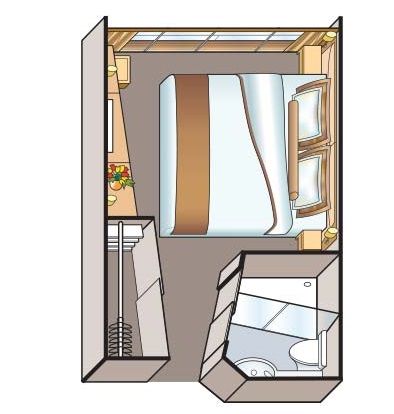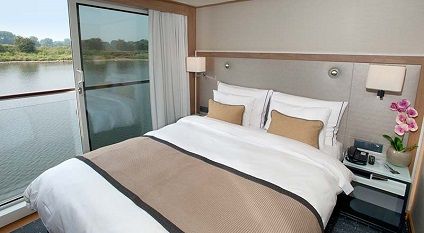 Features

* Stateroom size: 135 sq. ft.
* Hotel-style beds 79 inches x 63 inches (with optional twin-bed configuration)
* Floor-to-ceiling sliding glass doors open to create a French balcony
* Private bathroom with shower and premium bath products
* Telephone, refrigerator, safe, hair dryer & bottled water replenished daily
* Bathrobe and slippers available upon request
* Individual climate control
* Space under bed for storing suitcases
* Roomy wardrobe with wooden hangers
* Voltage: 220V and 110V in stateroom
* Sony 26-inch flat-panel TV with premium entertainment package including: CNBC, CNN, Fox News, ESPN, National Geographic, MGM Movies, Sky Cinema, videos on demand and "View From the Bridge"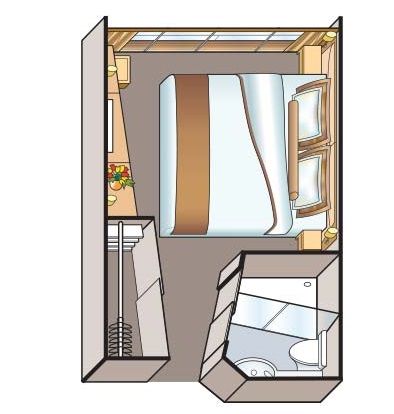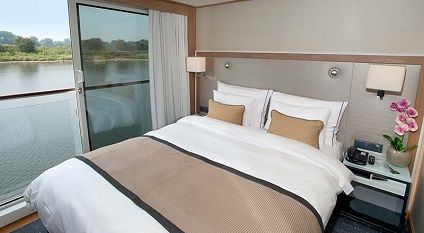 Features

* Stateroom size: 135 sq. ft.
* Hotel-style beds 79 inches x 63 inches (with optional twin-bed configuration)
* Floor-to-ceiling sliding glass doors open to create a French balcony
* Private bathroom with shower and premium bath products
* Telephone, refrigerator, safe, hair dryer & bottled water replenished daily
* Bathrobe and slippers available upon request
* Individual climate control
* Space under bed for storing suitcases
* Roomy wardrobe with wooden hangers
* Voltage: 220V and 110V in stateroom
* Sony 26-inch flat-panel TV with premium entertainment package including: CNBC, CNN, Fox News, ESPN, National Geographic, MGM Movies, Sky Cinema, videos on demand and "View From the Bridge"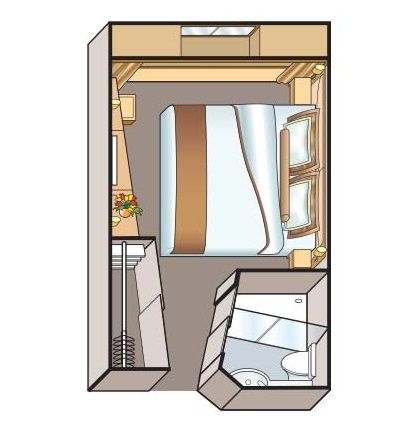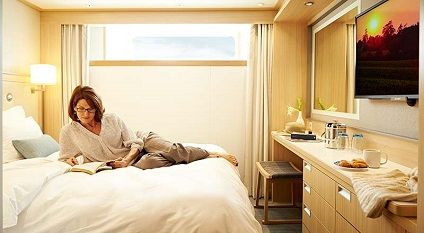 Features

* Stateroom size: 150 sq. ft.
* Hotel-style beds 79 inches x 63 inches (with optional twin-bed configuration)
* Half-height picture window
* Private bathroom with shower and premium bath products
* Telephone, refrigerator, safe, hair dryer & bottled water replenished daily
* Bathrobe and slippers available upon request
* Individual climate control
* Space under bed for storing suitcases
* Roomy wardrobe with wooden hangers
* Voltage: 220V and 110V in stateroom
* Sony 26-inch flat-panel TV with premium entertainment package including: CNBC, CNN, Fox News, ESPN, National Geographic, MGM Movies, Sky Cinema, videos on demand and "View From the Bridge"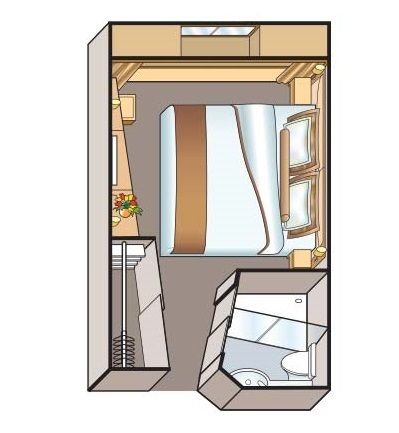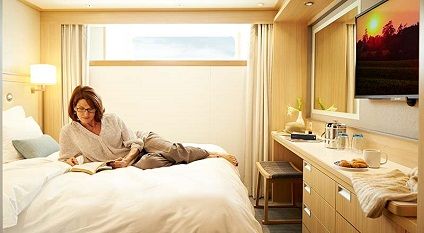 Features

* Stateroom size: 150 sq. ft.
* Hotel-style beds 79 inches x 63 inches (with optional twin-bed configuration)
* Half-height picture window
* Private bathroom with shower and premium bath products
* Telephone, refrigerator, safe, hair dryer & bottled water replenished daily
* Bathrobe and slippers available upon request
* Individual climate control
* Space under bed for storing suitcases
* Roomy wardrobe with wooden hangers
* Voltage: 220V and 110V in stateroom
* Sony 26-inch flat-panel TV with premium entertainment package including: CNBC, CNN, Fox News, ESPN, National Geographic, MGM Movies, Sky Cinema, videos on demand and "View From the Bridge"