Owned by Pacific Beachcomber S.C., the leader in French Polynesia luxury destination resorts, Paul Gauguin Cruises operates the award-winning luxury cruise ship m/s Paul Gauguin, providing a luxury cruise experience tailored to the unparalleled wonders of Tahiti, French Polynesia and the South Pacific. A second small luxury ship, the m/vTere Moana, joined the fleet in late 2012.
The renowned, 5+-star m/s Paul Gauguin was built specifically to sail the waters of Tahiti, French Polynesia and the South Pacific. Launched in 1998, The Gauguin is the longest continually operating year-round luxury cruise ship in the South Pacific. No other luxury ship in history has offered this level of single-destination focus and expertise on a year-round basis for such an extended period of time.
Like The Gauguin, The Moana will specialize in warm-weather destinations, with an emphasis on delivering unique itineraries that larger ships cannot offer and exploring hidden ports throughout these regions. The ship will sail during the summer months in Europe and winter in the Caribbean and Latin America.
Inclusive Benefits
•All onboard gratuities included
•Complimentary beverages including fine wines and premium spirits, soft drinks, bottled water, coffee and tea served throughout the ship
•Butler service in categories B and above, including in-suite bar setup and SoundDock® for iPod®
•In-suite mini-bar replenished daily with soft drinks, beer and bottled water
•State-of-the-art retractable Watersports Marina
•Onboard dive program
•Onboard lecture program
•Two elegant restaurants and one pool-side grill, all with open-seating dining
•Well-being and vegetarian selections and special dietetic menus upon request
•WiFi hotspots throughout the ship
•Complimentary 24-hour room service
•Complimentary in-room dining
•Complimentary in-room movie channels and movies available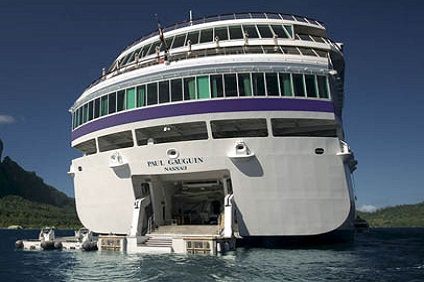 Paul Gauguin
The m/s Paul Gauguin was designed specifically to sail the shallow seas of Tahiti and French Polynesia, visiting small ports that larger ships can't reach …
View More
Filter results:
Currently we have no results for this cruise line, please click here to start a search and find something for you!