Cruise Itinerary
| Date | Port | Arrive | Depart |
| --- | --- | --- | --- |
| 27 Nov 2022 | Ft Lauderdale (Pt Everglades), USA | | 5:00 PM |
| 28 Nov 2022 | Half Moon Cay, Bahamas | 8:00 AM | 4:00 PM |
| 29 Nov 2022 | At Sea | | |
| 30 Nov 2022 | Falmouth, Antigua & Barbuda | 8:00 AM | 5:00 PM |
| 1 Dec 2022 | Grand Cayman (George Town) | 8:00 AM | 4:00 PM |
| 2 Dec 2022 | Cozumel, Mexico | 11:00 AM | 11:00 PM |
| 3 Dec 2022 | At Sea | | |
| 4 Dec 2022 | Ft Lauderdale (Pt Everglades), USA | 7:00 AM | |
7 Night Cruise sailing from Ft Lauderdale (Pt Everglades), USA onboard Nieuw Amsterdam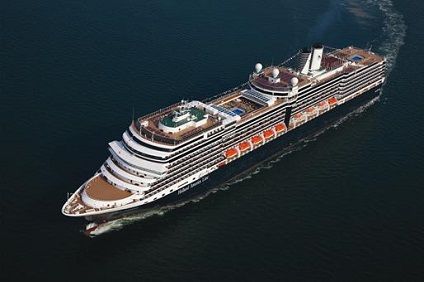 The second of our Signature-class ships, ms Nieuw Amsterdam celebrates historic New York City, once called Nieuw Amsterdam, with its inspired design and an art collection valued at more than $3 million. While on board enjoy cooking classes and hands-on workshops from America's Test Kitchen. Hone your video-editing skills at a Digital Workshop powered by Windows®. Dine in your choice of specialty restaurants. Or rejuvenate in the Greenhouse Spa & Salon.
Ship Profile & Stats
Maiden voyage: 2010
Refurbished: Oct 2017 - Due again Apr 2020
Tonnage: 86,000 tonnes
Length: 936 feet
Beam: 105.8 feet
Speed: 23.9 knots
Ship registration: The Netherlands
Passenger capacity (dbl): 2104
Crew nationality: Filipino & Indonesian
Officer nationality: Dutch
Dining nationality: Filipino & Indonesian
Ship Amenities
Complimentary fresh fruit on request
Deluxe waffle weave and terry cloth bathrobes for use during your voyage
DVD Player
Flat Panel Television
Ice service, shoeshine service and nightly turndown service
Our signature Mariner's Dream™ bed featuring finely woven cotton linens
Premium massage showerheads
Salon-Quality Hair Dryers
Ship Facilities
Pinnacle Grill
Manhattan Dining Room
Greenhouse Spa & Salon
The Culinary Arts Center, presented by Food & Wine Magazine
The Digital Workshop powered by Microsoft Windows
The Retreat
Silk Den Lounge
Tamarind Restaurant
Canaletto Restaurant
The Loft
Club HAL®
Crow's Nest
Showroom at Sea
Explorations Café, powered by The New York Times
Lido Restaurant
Pinnacle Bar
Le Cirque
Master Chef's Room
Slice
Thermal Suite
Hydro Pool
Culinary Arts Centre
Digital Workshop
Cabana Club
Merabella Luxury Boutique
We were born to voyage. For nearly 145 years, we've been introducing guests to new places and new cultures, and we've witnessed firsthand the transformative power of travel. We've seen how it opens minds, builds connections and fosters an appreciation of the shared humanity that unites us the world over. We invite you to join us for an unforgettable experience. Because travel is more than an itinerary, it has the power to change us and our world, journey by journey. This is why we sail.
Carefully Crafted Journeys
Balance. Depth. Authenticity. These are the elements we bring to more than 500 itineraries, stopping in 100 countries, the world over. Our Explorations Central (EXC™) program adds meaning and context, making your journey an even richer experience.
Spacious, Mid-Sized Ships
Holland America Line holds true to the timeless elegance of ocean travel. From the moment you step aboard one of our spacious, mid-sized ships, you'll feel the difference. Classic nautical lines. Beautiful appointments. Warm, hospitable service.
Immersive Culinary Journeys
Under the guidance of our Culinary Council® of chefs, fine dining at the Pinnacle Grill, Tamarind, Canaletto, Rudi's Sel de Mer and in our Dining Room is truly memorable. Hone your culinary skills at America's Test Kitchen's shows and workshops.
Exclusive Onboard Activities
Through exciting new partnerships with America's Test Kitchen; O, The Oprah Magazine; BBC Earth Experiences; Digital Workshop powered by Windows; Explorations Central (EXC™) programs and live entertainment, you can continue exploring on board.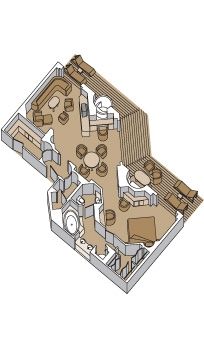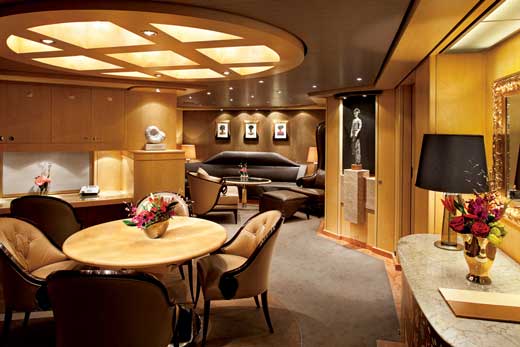 Bedroom with 1 king-size bed, oversize whirlpool bath & shower & additional shower stall, living room, dining room, dressing room, private verandah with whirlpool, pantry, 1 sofa bed for 2 persons, microwave, refrigerator, guest toilet, private stereo system, floor-to-ceiling windows.
Approximately 1357 sq. ft. including verandah

Include all the suite amenities, plus:

In-suite coffee and espresso machine
Bose® SoundDock®
Expanded line of Elemis bath amenities
Complimentary mimosas with in-suite breakfast
Premium duvet, and soft, cotton bathrobes and slippers
A very special amenity exclusively for guests cruising in a Neptune or Pinnacle Suite, the industry-leading Neptune Lounge features a private place to relax, socialize with other suite guests and enjoy the personalized service of a concierge. The fleet-wide lounges provide worktables, large screen television, library, sofas and chairs, refreshments throughout the day and wi-fi for a small charge. One-Touch 24-hour Concierge Service is available when the Neptune Lounge is closed.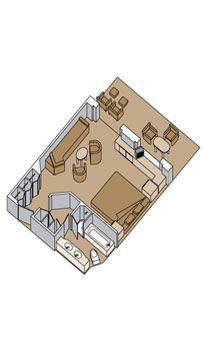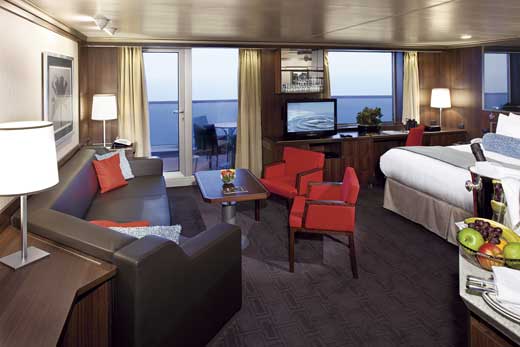 2 lower beds convertible to 1 king-size bed, bathroom with dual sink vanity, full-size whirlpool bath, shower and additional shower stall, large sitting area, dressing room, private verandah, 1 sofa bed for 2 persons, floor-to-ceiling windows.
Approximately 506–590 sq. ft. including verandah

Suite amenities include:

In-suite coffee and espresso machine
Bose® SoundDock®
Expanded line of Elemis bath amenities
Complimentary mimosas with in-suite breakfast
Premium duvet, and soft, cotton bathrobes and slippers
Use of the exclusive Neptune Lounge and personal concierge service
Complimentary laundry, pressing and dry cleaning throughout your cruise
Complimentary sparkling wine served in the Neptune Lounge upon embarkation
Complimentary bottled water provided in suite at embarkation
Gorgeous corsages and boutonnieres for the first formal night
Cold hors d'oeuvres served before dinner each evening on request
Binoculars and umbrellas for your use on the cruise
Cocktail party with ship's officers
Priority boarding for tendered ports of call
Special disembarkation service
Priority dining and seating requests
Exclusive daily breakfast service
High tea service in suite on request
Elegant wooden clothing brush, lint remover and shoehorn for keeping clothing immaculate
Fragrant bath salts and exfoliating loofah mitt for an invigorating shower experience
Neptune Lounge: A very special amenity exclusively for guests cruising in a Neptune or Pinnacle Suite, the industry-leading Neptune Lounge features a private place to relax, socialize with other suite guests and enjoy the personalized service of a concierge. The fleet-wide lounges provide worktables, large screen television, library, sofas and chairs, refreshments throughout the day and wi-fi for a small charge. One-Touch 24-hour Concierge Service is available when the Neptune Lounge is closed.

Spa Amenities include:

Yoga Mats
iPod® docking stations
Easy access to the Greenhouse Spa & Salon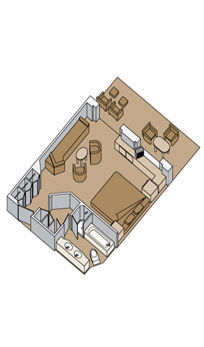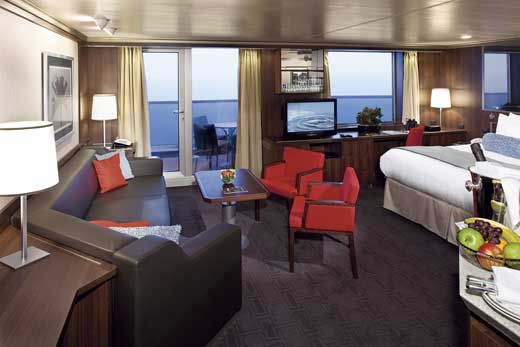 2 lower beds convertible to 1 king-size bed, bathroom with dual sink vanity, full-size whirlpool bath, shower and additional shower stall, large sitting area, dressing room, private verandah, 1 sofa bed for 2 persons, floor-to-ceiling windows.
Approximately 506–590 sq. ft. including verandah

Suite amenities include:

In-suite coffee and espresso machine
Bose® SoundDock®
Expanded line of Elemis bath amenities
Complimentary mimosas with in-suite breakfast
Premium duvet, and soft, cotton bathrobes and slippers
Use of the exclusive Neptune Lounge and personal concierge service
Complimentary laundry, pressing and dry cleaning throughout your cruise
Complimentary sparkling wine served in the Neptune Lounge upon embarkation
Complimentary bottled water provided in suite at embarkation
Gorgeous corsages and boutonnieres for the first formal night
Cold hors d'oeuvres served before dinner each evening on request
Binoculars and umbrellas for your use on the cruise
Cocktail party with ship's officers
Priority boarding for tendered ports of call
Special disembarkation service
Priority dining and seating requests
Exclusive daily breakfast service
High tea service in suite on request
Elegant wooden clothing brush, lint remover and shoehorn for keeping clothing immaculate
Fragrant bath salts and exfoliating loofah mitt for an invigorating shower experience
Neptune Lounge: A very special amenity exclusively for guests cruising in a Neptune or Pinnacle Suite, the industry-leading Neptune Lounge features a private place to relax, socialize with other suite guests and enjoy the personalized service of a concierge. The fleet-wide lounges provide worktables, large screen television, library, sofas and chairs, refreshments throughout the day and wi-fi for a small charge. One-Touch 24-hour Concierge Service is available when the Neptune Lounge is closed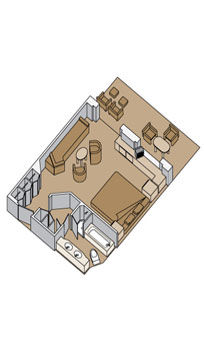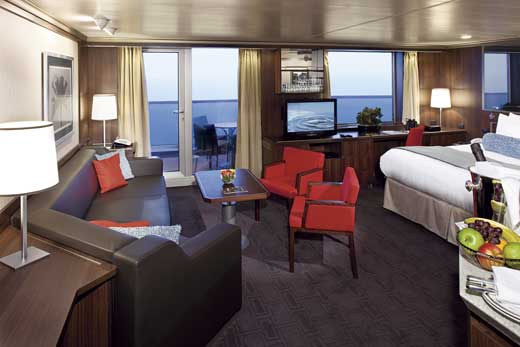 2 lower beds convertible to 1 king-size bed, bathroom with dual sink vanity, full-size whirlpool bath, shower and additional shower stall, large sitting area, dressing room, private verandah, 1 sofa bed for 2 persons, floor-to-ceiling windows.
Approximately 506–590 sq. ft. including verandah

Suite amenities include:

In-suite coffee and espresso machine
Bose® SoundDock®
Expanded line of Elemis bath amenities
Complimentary mimosas with in-suite breakfast
Premium duvet, and soft, cotton bathrobes and slippers
Use of the exclusive Neptune Lounge and personal concierge service
Complimentary laundry, pressing and dry cleaning throughout your cruise
Complimentary sparkling wine served in the Neptune Lounge upon embarkation
Complimentary bottled water provided in suite at embarkation
Gorgeous corsages and boutonnieres for the first formal night
Cold hors d'oeuvres served before dinner each evening on request
Binoculars and umbrellas for your use on the cruise
Cocktail party with ship's officers
Priority boarding for tendered ports of call
Special disembarkation service
Priority dining and seating requests
Exclusive daily breakfast service
High tea service in suite on request
Elegant wooden clothing brush, lint remover and shoehorn for keeping clothing immaculate
Fragrant bath salts and exfoliating loofah mitt for an invigorating shower experience
Neptune Lounge: A very special amenity exclusively for guests cruising in a Neptune or Pinnacle Suite, the industry-leading Neptune Lounge features a private place to relax, socialize with other suite guests and enjoy the personalized service of a concierge. The fleet-wide lounges provide worktables, large screen television, library, sofas and chairs, refreshments throughout the day and wi-fi for a small charge. One-Touch 24-hour Concierge Service is available when the Neptune Lounge is closed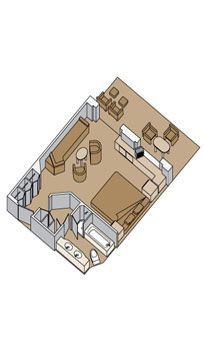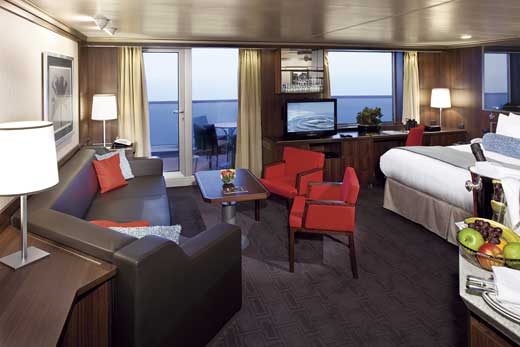 2 lower beds convertible to 1 king-size bed, bathroom with dual sink vanity, full-size whirlpool bath, shower and additional shower stall, large sitting area, dressing room, private verandah, 1 sofa bed for 2 persons, floor-to-ceiling windows.
Approximately 506–590 sq. ft. including verandah

Suite amenities include:

In-suite coffee and espresso machine
Bose® SoundDock®
Expanded line of Elemis bath amenities
Complimentary mimosas with in-suite breakfast
Premium duvet, and soft, cotton bathrobes and slippers
Use of the exclusive Neptune Lounge and personal concierge service
Complimentary laundry, pressing and dry cleaning throughout your cruise
Complimentary sparkling wine served in the Neptune Lounge upon embarkation
Complimentary bottled water provided in suite at embarkation
Gorgeous corsages and boutonnieres for the first formal night
Cold hors d'oeuvres served before dinner each evening on request
Binoculars and umbrellas for your use on the cruise
Cocktail party with ship's officers
Priority boarding for tendered ports of call
Special disembarkation service
Priority dining and seating requests
Exclusive daily breakfast service
High tea service in suite on request
Elegant wooden clothing brush, lint remover and shoehorn for keeping clothing immaculate
Fragrant bath salts and exfoliating loofah mitt for an invigorating shower experience
Neptune Lounge: A very special amenity exclusively for guests cruising in a Neptune or Pinnacle Suite, the industry-leading Neptune Lounge features a private place to relax, socialize with other suite guests and enjoy the personalized service of a concierge. The fleet-wide lounges provide worktables, large screen television, library, sofas and chairs, refreshments throughout the day and wi-fi for a small charge. One-Touch 24-hour Concierge Service is available when the Neptune Lounge is closed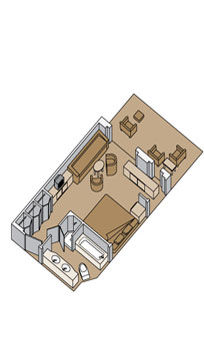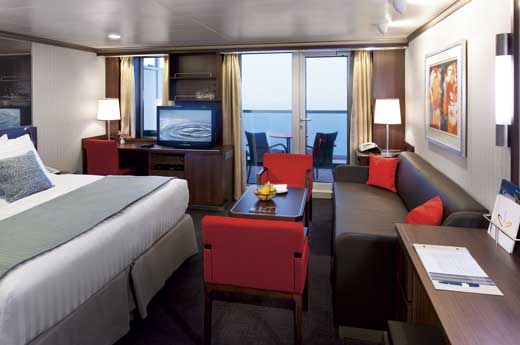 2 lower beds convertible to 1 queen-size bed, bathroom with dual sink vanity, full-size whirlpool bath, shower and additional shower stall, large sitting area, private verandah, 1 sofa bed for 1 person, floor-to-ceiling windows.
Approximately 273–456 sq. ft. including verandah

Include all the stateroom amenities, plus:
Premium duvet, and soft, cotton bathrobes and slippers
Binoculars for use during voyage
A variety of firm, medium and soft pillows
No-host mini-bar for easy entertaining
Personalized cruise stationery
Oversized bath towels
One-touch telephone concierge service
Fresh flowers
Complimentary DVD library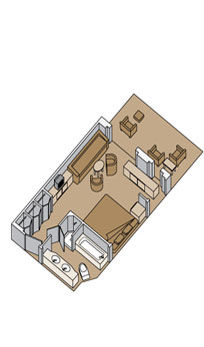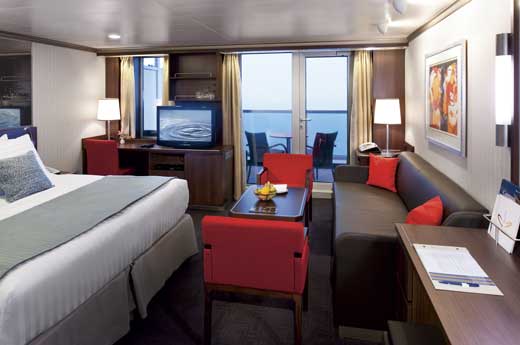 2 lower beds convertible to 1 queen-size bed, bathroom with dual sink vanity, full-size whirlpool bath, shower and additional shower stall, large sitting area, private verandah, 1 sofa bed for 1 person, floor-to-ceiling windows.
Approximately 273–456 sq. ft. including verandah

Include all the stateroom amenities, plus:

Premium duvet, and soft, cotton bathrobes and slippers
Binoculars for use during voyage
A variety of firm, medium and soft pillows
No-host mini-bar for easy entertaining
Personalized cruise stationery
Oversized bath towels
One-touch telephone concierge service
Fresh flowers
Complimentary DVD library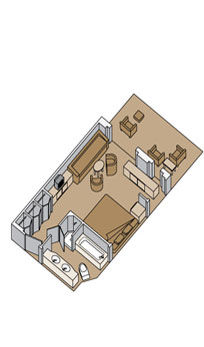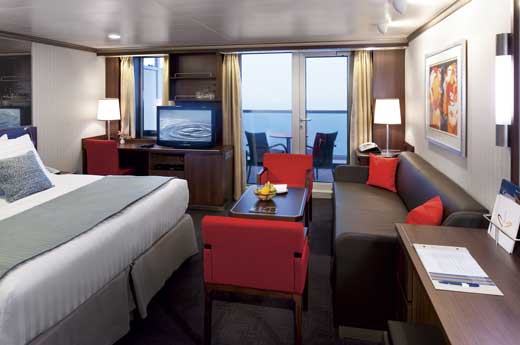 2 lower beds convertible to 1 queen-size bed, bathroom with dual sink vanity, full-size whirlpool bath, shower and additional shower stall, large sitting area, private verandah, 1 sofa bed for 1 person, floor-to-ceiling windows.
Approximately 273–456 sq. ft. including verandah

Include all the stateroom amenities, plus:

Premium duvet, and soft, cotton bathrobes and slippers
Binoculars for use during voyage
A variety of firm, medium and soft pillows
No-host mini-bar for easy entertaining
Personalized cruise stationery
Oversized bath towels
One-touch telephone concierge service
Fresh flowers
Complimentary DVD library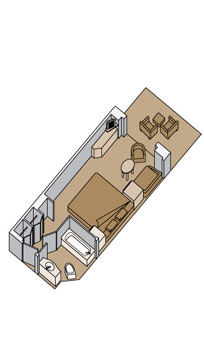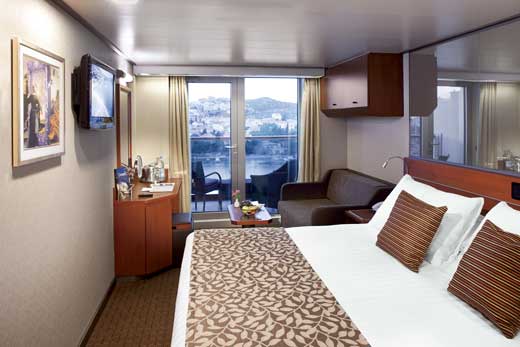 2 lower beds convertible to 1 queen-size bed, bathtub, shower, sitting area, private verandah, floor-to-ceiling windows.
Approximately 213–379 sq. ft. including verandah

Stateroom amenities include:

Our signature Mariner's Dream™ bed featuring finely woven cotton linens
Luxurious bathrobes for use during your voyage
100% Egyptian cotton towels
Premium massage showerhead
5x magnifying lighted make-up mirror and salon-quality hair dryer



Fragrant soaps, lotions, shampoo and other bath amenities from Elemis Aromapure
Complimentary fresh fruit on request
Elegant ice bucket and serving tray for in-stateroom beverages
Flat-panel TV and DVD player
Ice service, shoeshine service and nightly turndown service

Spa Amenities include: Yoga Mats iPod® docking stations Easy access to the Greenhouse Spa & Salon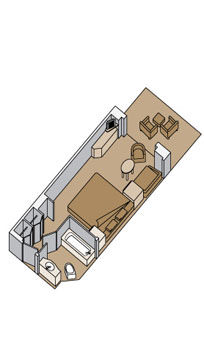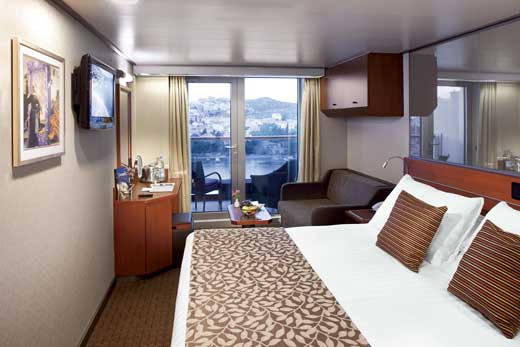 2 lower beds convertible to 1 queen-size bed, bathtub, shower, sitting area, private verandah, floor-to-ceiling windows.
Approximately 213–379 sq. ft. including verandah

Stateroom amenities include:

Our signature Mariner's Dream™ bed featuring finely woven cotton linens
Luxurious bathrobes for use during your voyage
100% Egyptian cotton towels
Premium massage showerhead
5x magnifying lighted make-up mirror and salon-quality hair dryer



Fragrant soaps, lotions, shampoo and other bath amenities from Elemis Aromapure
Complimentary fresh fruit on request
Elegant ice bucket and serving tray for in-stateroom beverages
Flat-panel TV and DVD player
Ice service, shoeshine service and nightly turndown service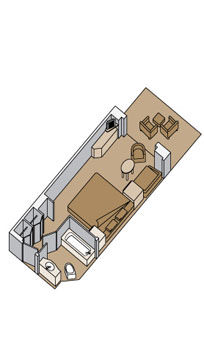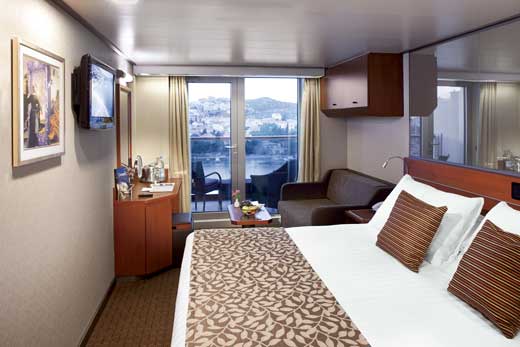 2 lower beds convertible to 1 queen-size bed, bathtub, shower, sitting area, private verandah, floor-to-ceiling windows.
Approximately 213–379 sq. ft. including verandah

Stateroom amenities include:

Our signature Mariner's Dream™ bed featuring finely woven cotton linens
Luxurious bathrobes for use during your voyage
100% Egyptian cotton towels
Premium massage showerhead
5x magnifying lighted make-up mirror and salon-quality hair dryer



Fragrant soaps, lotions, shampoo and other bath amenities from Elemis Aromapure
Complimentary fresh fruit on request
Elegant ice bucket and serving tray for in-stateroom beverages
Flat-panel TV and DVD player
Ice service, shoeshine service and nightly turndown service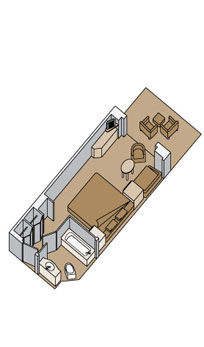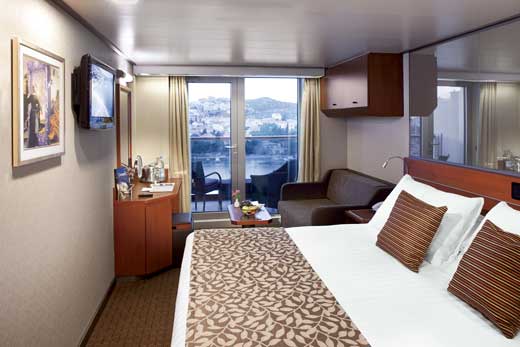 2 lower beds convertible to 1 queen-size bed, bathtub, shower, sitting area, private verandah, floor-to-ceiling windows.
Approximately 213–379 sq. ft. including verandah

Stateroom amenities include:

Our signature Mariner's Dream™ bed featuring finely woven cotton linens
Luxurious bathrobes for use during your voyage
100% Egyptian cotton towels
Premium massage showerhead
5x magnifying lighted make-up mirror and salon-quality hair dryer



Fragrant soaps, lotions, shampoo and other bath amenities from Elemis Aromapure
Complimentary fresh fruit on request
Elegant ice bucket and serving tray for in-stateroom beverages
Flat-panel TV and DVD player
Ice service, shoeshine service and nightly turndown service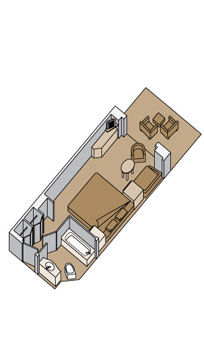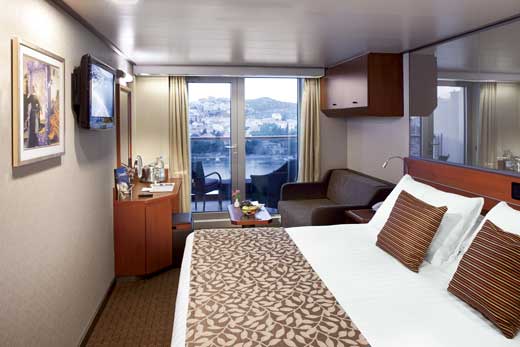 2 lower beds convertible to 1 queen-size bed, bathtub, shower, sitting area, private verandah, floor-to-ceiling windows.
Approximately 213–379 sq. ft. including verandah

Stateroom amenities include:

Our signature Mariner's Dream™ bed featuring finely woven cotton linens
Luxurious bathrobes for use during your voyage
100% Egyptian cotton towels
Premium massage showerhead
5x magnifying lighted make-up mirror and salon-quality hair dryer



Fragrant soaps, lotions, shampoo and other bath amenities from Elemis Aromapure
Complimentary fresh fruit on request
Elegant ice bucket and serving tray for in-stateroom beverages
Flat-panel TV and DVD player
Ice service, shoeshine service and nightly turndown service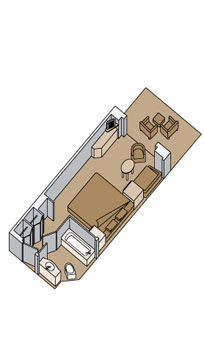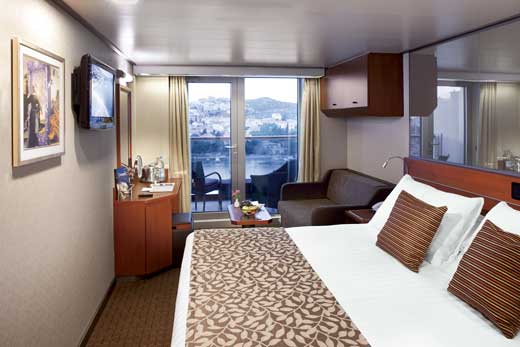 2 lower beds convertible to 1 queen-size bed, bathtub, shower, sitting area, private verandah, floor-to-ceiling windows.
Approximately 213–379 sq. ft. including verandah

Stateroom amenities include:

Our signature Mariner's Dream™ bed featuring finely woven cotton linens
Luxurious bathrobes for use during your voyage
100% Egyptian cotton towels
Premium massage showerhead
5x magnifying lighted make-up mirror and salon-quality hair dryer



Fragrant soaps, lotions, shampoo and other bath amenities from Elemis Aromapure
Complimentary fresh fruit on request
Elegant ice bucket and serving tray for in-stateroom beverages
Flat-panel TV and DVD player
Ice service, shoeshine service and nightly turndown service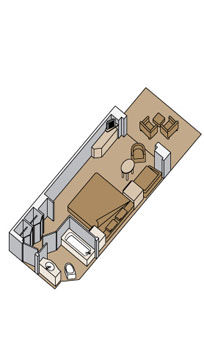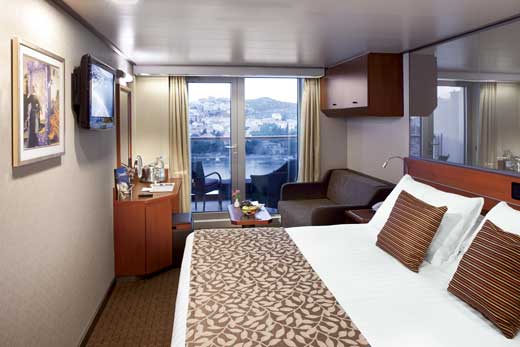 2 lower beds convertible to 1 queen-size bed, bathtub, shower, sitting area, private verandah, floor-to-ceiling windows.
Approximately 213–379 sq. ft. including verandah

Stateroom amenities include:

Our signature Mariner's Dream™ bed featuring finely woven cotton linens
Luxurious bathrobes for use during your voyage
100% Egyptian cotton towels
Premium massage showerhead
5x magnifying lighted make-up mirror and salon-quality hair dryer



Fragrant soaps, lotions, shampoo and other bath amenities from Elemis Aromapure
Complimentary fresh fruit on request
Elegant ice bucket and serving tray for in-stateroom beverages
Flat-panel TV and DVD player
Ice service, shoeshine service and nightly turndown service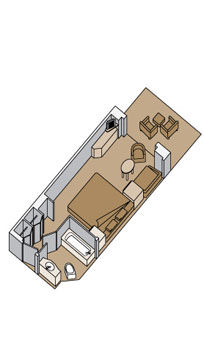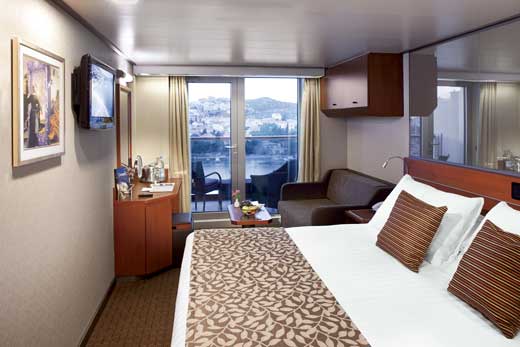 2 lower beds convertible to 1 queen-size bed, bathtub, shower, sitting area, private verandah, floor-to-ceiling windows.
Approximately 213–379 sq. ft. including verandah

Stateroom amenities include:

Our signature Mariner's Dream™ bed featuring finely woven cotton linens
Luxurious bathrobes for use during your voyage
100% Egyptian cotton towels
Premium massage showerhead
5x magnifying lighted make-up mirror and salon-quality hair dryer



Fragrant soaps, lotions, shampoo and other bath amenities from Elemis Aromapure
Complimentary fresh fruit on request
Elegant ice bucket and serving tray for in-stateroom beverages
Flat-panel TV and DVD player
Ice service, shoeshine service and nightly turndown service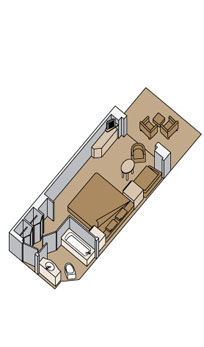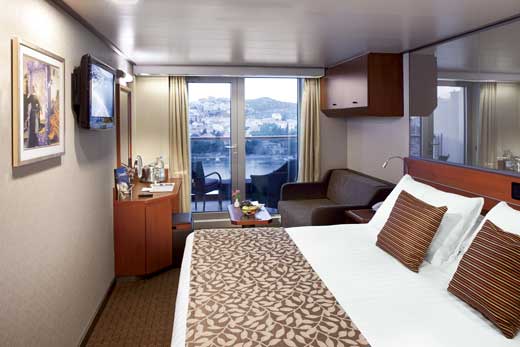 2 lower beds convertible to 1 queen-size bed, bathtub, shower, sitting area, private verandah, floor-to-ceiling windows.
Approximately 213–379 sq. ft. including verandah

Stateroom amenities include:

Our signature Mariner's Dream™ bed featuring finely woven cotton linens
Luxurious bathrobes for use during your voyage
100% Egyptian cotton towels
Premium massage showerhead
5x magnifying lighted make-up mirror and salon-quality hair dryer



Fragrant soaps, lotions, shampoo and other bath amenities from Elemis Aromapure
Complimentary fresh fruit on request
Elegant ice bucket and serving tray for in-stateroom beverages
Flat-panel TV and DVD player
Ice service, shoeshine service and nightly turndown service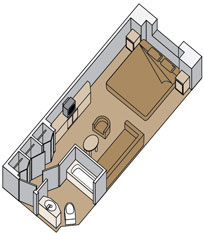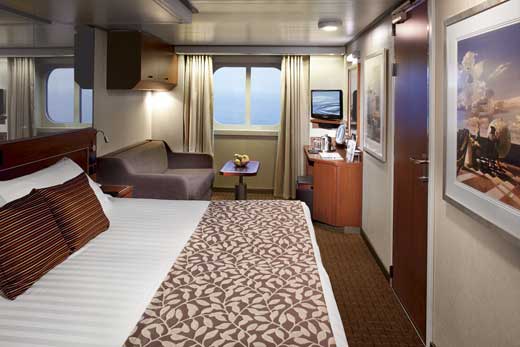 2 lower beds convertible to 1 queen-size bed, bathtub, shower. All G-category staterooms have partial sea views.
Approximately 169–267 sq. ft.

Stateroom amenities include:

Our signature Mariner's Dream™ bed featuring finely woven cotton linens
Deluxe waffle weave and terry cloth bathrobes for use during your voyage
100% Egyptian cotton towels
Premium massage showerheads
5X magnifying make-up mirrors and salon-quality hair dryers



Fragrant soaps, lotions, shampoo and other bath amenities from Elemis Aromapure
Complimentary fresh fruit on request
Elegant ice bucket and serving tray for in-stateroom beverages
Flat-panel TV and DVD player
Ice service, shoeshine service and nightly turndown service
Spa Amenities include: Yoga Mats iPod® docking stations Easy access to the Greenhouse Spa & Salon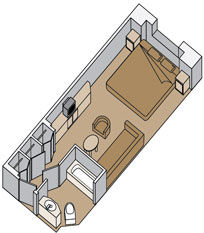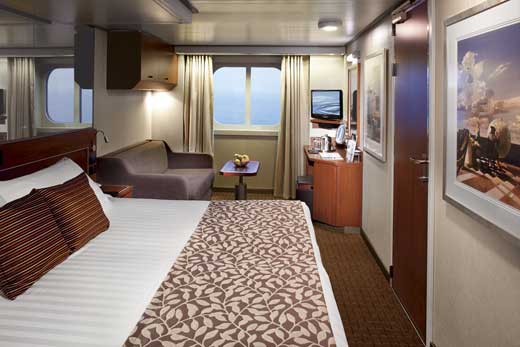 2 lower beds convertible to 1 queen-size bed, bathtub, shower. All G-category staterooms have partial sea views.
Approximately 169–267 sq. ft.

Stateroom amenities include:

Our signature Mariner's Dream™ bed featuring finely woven cotton linens
Deluxe waffle weave and terry cloth bathrobes for use during your voyage
100% Egyptian cotton towels
Premium massage showerheads
5X magnifying make-up mirrors and salon-quality hair dryers



Fragrant soaps, lotions, shampoo and other bath amenities from Elemis Aromapure
Complimentary fresh fruit on request
Elegant ice bucket and serving tray for in-stateroom beverages
Flat-panel TV and DVD player
Ice service, shoeshine service and nightly turndown service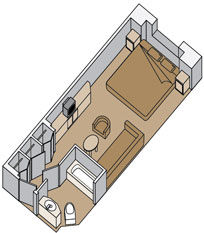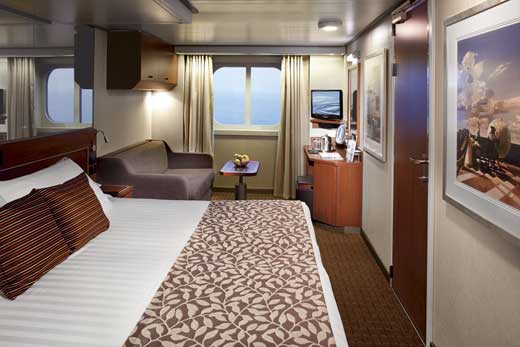 2 lower beds convertible to 1 queen-size bed, bathtub, shower. All G-category staterooms have partial sea views.
Approximately 169–267 sq. ft.

Stateroom amenities include:

Our signature Mariner's Dream™ bed featuring finely woven cotton linens
Deluxe waffle weave and terry cloth bathrobes for use during your voyage
100% Egyptian cotton towels
Premium massage showerheads
5X magnifying make-up mirrors and salon-quality hair dryers



Fragrant soaps, lotions, shampoo and other bath amenities from Elemis Aromapure
Complimentary fresh fruit on request
Elegant ice bucket and serving tray for in-stateroom beverages
Flat-panel TV and DVD player
Ice service, shoeshine service and nightly turndown service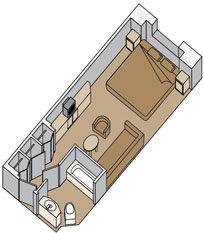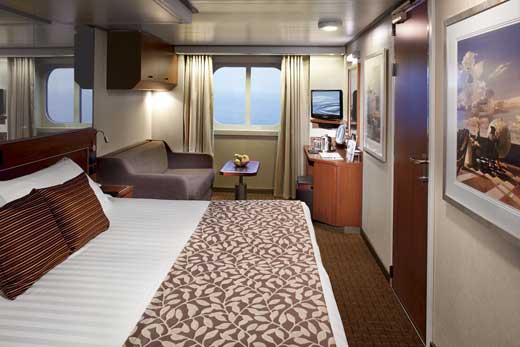 2 lower beds convertible to 1 queen-size bed, bathtub, shower. All G-category staterooms have partial sea views.
Approximately 169–267 sq. ft.

Stateroom amenities include:

Our signature Mariner's Dream™ bed featuring finely woven cotton linens
Deluxe waffle weave and terry cloth bathrobes for use during your voyage
100% Egyptian cotton towels
Premium massage showerheads
5X magnifying make-up mirrors and salon-quality hair dryers



Fragrant soaps, lotions, shampoo and other bath amenities from Elemis Aromapure
Complimentary fresh fruit on request
Elegant ice bucket and serving tray for in-stateroom beverages
Flat-panel TV and DVD player
Ice service, shoeshine service and nightly turndown service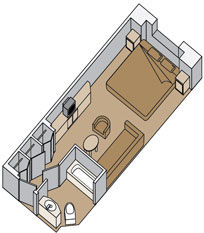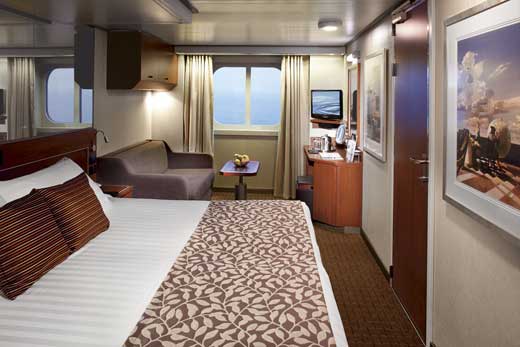 2 lower beds convertible to 1 queen-size bed, bathtub, shower. All G-category staterooms have partial sea views.
Approximately 169–267 sq. ft.

Stateroom amenities include:

Our signature Mariner's Dream™ bed featuring finely woven cotton linens
Deluxe waffle weave and terry cloth bathrobes for use during your voyage
100% Egyptian cotton towels
Premium massage showerheads
5X magnifying make-up mirrors and salon-quality hair dryers



Fragrant soaps, lotions, shampoo and other bath amenities from Elemis Aromapure
Complimentary fresh fruit on request
Elegant ice bucket and serving tray for in-stateroom beverages
Flat-panel TV and DVD player
Ice service, shoeshine service and nightly turndown service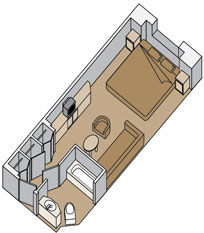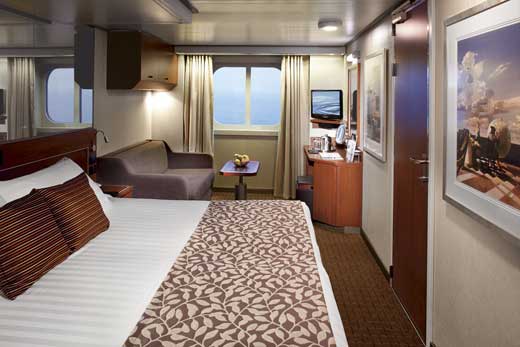 2 lower beds convertible to 1 queen-size bed, bathtub, shower. All G-category staterooms have partial sea views.
Approximately 169–267 sq. ft.

Stateroom amenities include:

Our signature Mariner's Dream™ bed featuring finely woven cotton linens
Deluxe waffle weave and terry cloth bathrobes for use during your voyage
100% Egyptian cotton towels
Premium massage showerheads
5X magnifying make-up mirrors and salon-quality hair dryers



Fragrant soaps, lotions, shampoo and other bath amenities from Elemis Aromapure
Complimentary fresh fruit on request
Elegant ice bucket and serving tray for in-stateroom beverages
Flat-panel TV and DVD player
Ice service, shoeshine service and nightly turndown service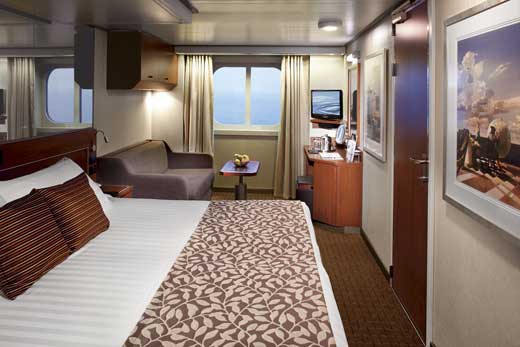 2 lower beds convertible to 1 queen-size bed, bathtub, shower. All G-category staterooms have partial sea views.
Approximately 169–267 sq. ft.

Stateroom amenities include:

Our signature Mariner's Dream™ bed featuring finely woven cotton linens
Deluxe waffle weave and terry cloth bathrobes for use during your voyage
100% Egyptian cotton towels
Premium massage showerheads
5X magnifying make-up mirrors and salon-quality hair dryers



Fragrant soaps, lotions, shampoo and other bath amenities from Elemis Aromapure
Complimentary fresh fruit on request
Elegant ice bucket and serving tray for in-stateroom beverages
Flat-panel TV and DVD player
Ice service, shoeshine service and nightly turndown service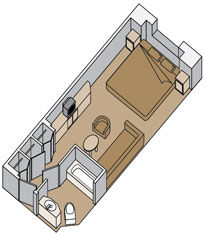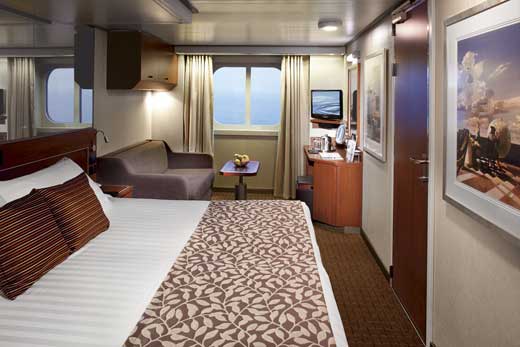 2 lower beds convertible to 1 queen-size bed, bathtub, shower. All G-category staterooms have partial sea views.
Approximately 169–267 sq. ft.

Stateroom amenities include:

Our signature Mariner's Dream™ bed featuring finely woven cotton linens
Deluxe waffle weave and terry cloth bathrobes for use during your voyage
100% Egyptian cotton towels
Premium massage showerheads
5X magnifying make-up mirrors and salon-quality hair dryers



Fragrant soaps, lotions, shampoo and other bath amenities from Elemis Aromapure
Complimentary fresh fruit on request
Elegant ice bucket and serving tray for in-stateroom beverages
Flat-panel TV and DVD player
Ice service, shoeshine service and nightly turndown service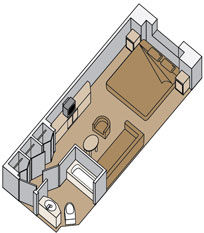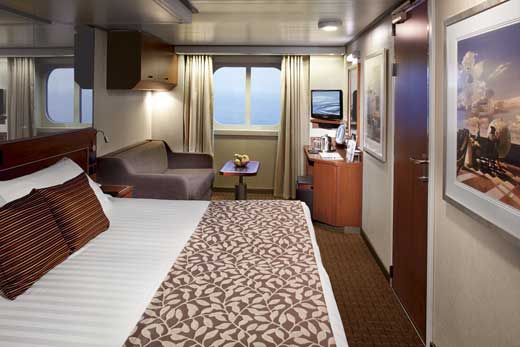 2 lower beds convertible to 1 queen-size bed, bathtub, shower. All G-category staterooms have partial sea views.
Approximately 169–267 sq. ft.

Stateroom amenities include:

Our signature Mariner's Dream™ bed featuring finely woven cotton linens
Deluxe waffle weave and terry cloth bathrobes for use during your voyage
100% Egyptian cotton towels
Premium massage showerheads
5X magnifying make-up mirrors and salon-quality hair dryers



Fragrant soaps, lotions, shampoo and other bath amenities from Elemis Aromapure
Complimentary fresh fruit on request
Elegant ice bucket and serving tray for in-stateroom beverages
Flat-panel TV and DVD player
Ice service, shoeshine service and nightly turndown service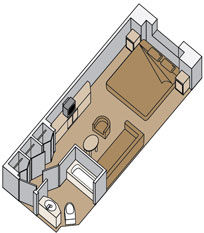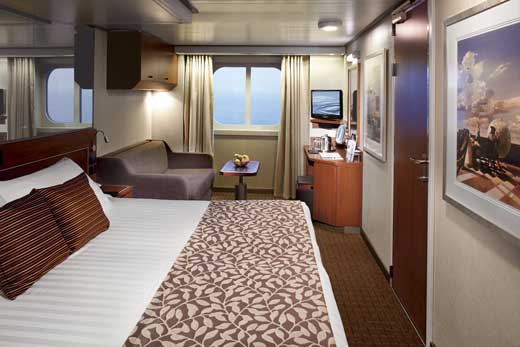 2 lower beds convertible to 1 queen-size bed, bathtub, shower. All G-category staterooms have partial sea views.
Approximately 169–267 sq. ft.

Stateroom amenities include:

Our signature Mariner's Dream™ bed featuring finely woven cotton linens
Deluxe waffle weave and terry cloth bathrobes for use during your voyage
100% Egyptian cotton towels
Premium massage showerheads
5X magnifying make-up mirrors and salon-quality hair dryers



Fragrant soaps, lotions, shampoo and other bath amenities from Elemis Aromapure
Complimentary fresh fruit on request
Elegant ice bucket and serving tray for in-stateroom beverages
Flat-panel TV and DVD player
Ice service, shoeshine service and nightly turndown service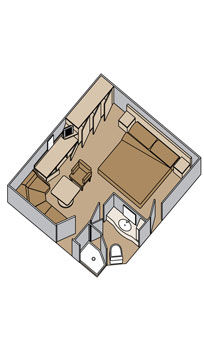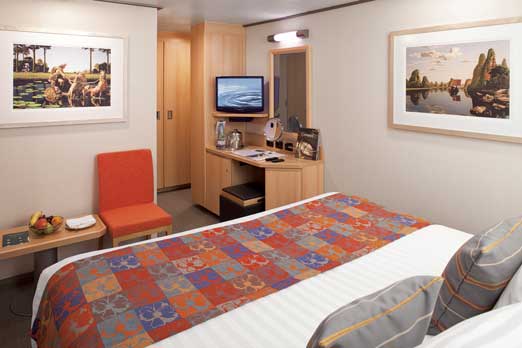 2 lower beds convertible to 1 queen-size bed, shower.
Approximately 141–284 sq. ft.

Stateroom amenities include:

Our signature Mariner's Dream™ bed featuring finely woven cotton linens
Deluxe waffle weave and terry cloth bathrobes for use during your voyage
100% Egyptian cotton towels
Premium massage showerheads
5X magnifying make-up mirrors and salon-quality hair dryers



Fragrant soaps, lotions, shampoo and other bath amenities from Elemis Aromapure
Complimentary fresh fruit on request
Elegant ice bucket and serving tray for in-stateroom beverages
Flat-panel TV and DVD player
Ice service, shoeshine service and nightly turndown service

Spa Amenities include: Yoga Mats iPod® docking stations Easy access to the Greenhouse Spa & Salon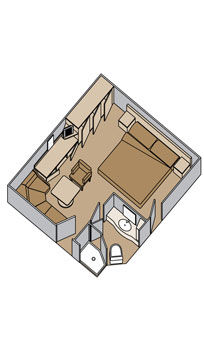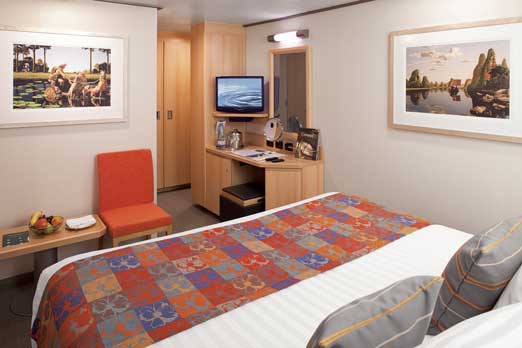 2 lower beds convertible to 1 queen-size bed, shower.
Approximately 141–284 sq. ft.

Stateroom amenities include:

Our signature Mariner's Dream™ bed featuring finely woven cotton linens
Deluxe waffle weave and terry cloth bathrobes for use during your voyage
100% Egyptian cotton towels
Premium massage showerheads
5X magnifying make-up mirrors and salon-quality hair dryers



Fragrant soaps, lotions, shampoo and other bath amenities from Elemis Aromapure
Complimentary fresh fruit on request
Elegant ice bucket and serving tray for in-stateroom beverages
Flat-panel TV and DVD player
Ice service, shoeshine service and nightly turndown service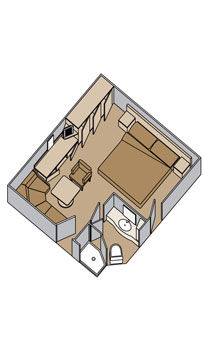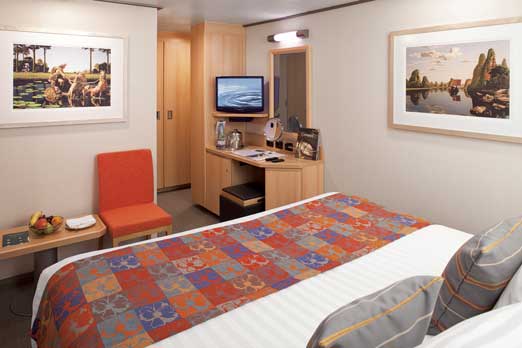 2 lower beds convertible to 1 queen-size bed, shower.
Approximately 141–284 sq. ft.

Stateroom amenities include:

Our signature Mariner's Dream™ bed featuring finely woven cotton linens
Deluxe waffle weave and terry cloth bathrobes for use during your voyage
100% Egyptian cotton towels
Premium massage showerheads
5X magnifying make-up mirrors and salon-quality hair dryers



Fragrant soaps, lotions, shampoo and other bath amenities from Elemis Aromapure
Complimentary fresh fruit on request
Elegant ice bucket and serving tray for in-stateroom beverages
Flat-panel TV and DVD player
Ice service, shoeshine service and nightly turndown service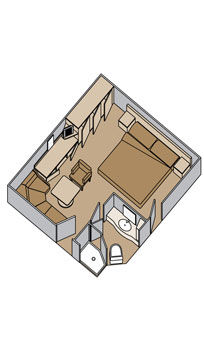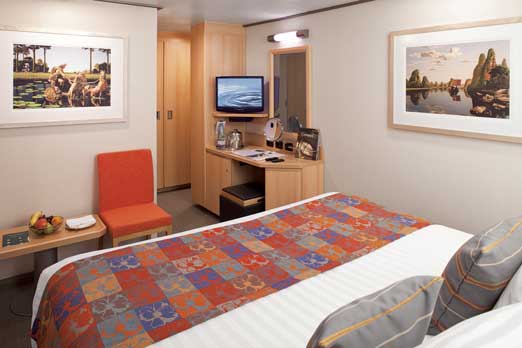 2 lower beds convertible to 1 queen-size bed, shower.
Approximately 141–284 sq. ft.

Stateroom amenities include:

Our signature Mariner's Dream™ bed featuring finely woven cotton linens
Deluxe waffle weave and terry cloth bathrobes for use during your voyage
100% Egyptian cotton towels
Premium massage showerheads
5X magnifying make-up mirrors and salon-quality hair dryers



Fragrant soaps, lotions, shampoo and other bath amenities from Elemis Aromapure
Complimentary fresh fruit on request
Elegant ice bucket and serving tray for in-stateroom beverages
Flat-panel TV and DVD player
Ice service, shoeshine service and nightly turndown service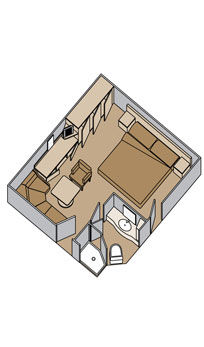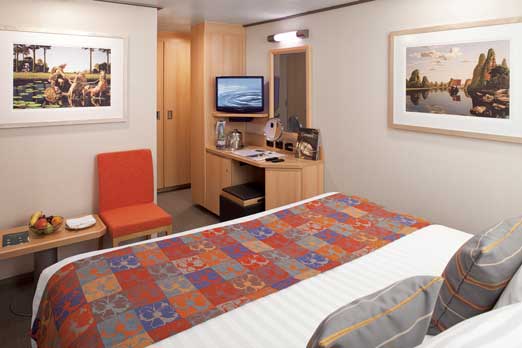 2 lower beds convertible to 1 queen-size bed, shower.
Approximately 141–284 sq. ft.

Stateroom amenities include:

Our signature Mariner's Dream™ bed featuring finely woven cotton linens
Deluxe waffle weave and terry cloth bathrobes for use during your voyage
100% Egyptian cotton towels
Premium massage showerheads
5X magnifying make-up mirrors and salon-quality hair dryers



Fragrant soaps, lotions, shampoo and other bath amenities from Elemis Aromapure
Complimentary fresh fruit on request
Elegant ice bucket and serving tray for in-stateroom beverages
Flat-panel TV and DVD player
Ice service, shoeshine service and nightly turndown service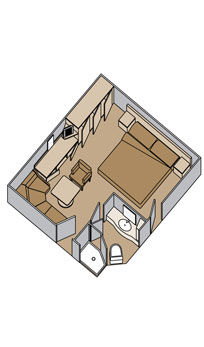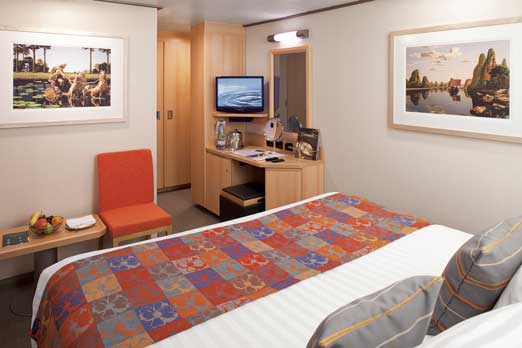 2 lower beds convertible to 1 queen-size bed, shower.
Approximately 141–284 sq. ft.

Stateroom amenities include:

Our signature Mariner's Dream™ bed featuring finely woven cotton linens
Deluxe waffle weave and terry cloth bathrobes for use during your voyage
100% Egyptian cotton towels
Premium massage showerheads
5X magnifying make-up mirrors and salon-quality hair dryers



Fragrant soaps, lotions, shampoo and other bath amenities from Elemis Aromapure
Complimentary fresh fruit on request
Elegant ice bucket and serving tray for in-stateroom beverages
Flat-panel TV and DVD player
Ice service, shoeshine service and nightly turndown service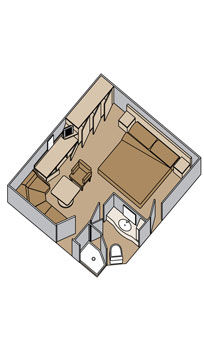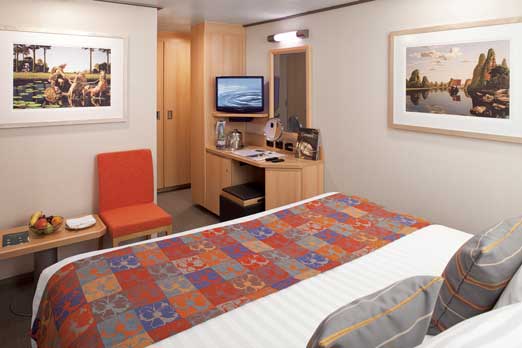 2 lower beds convertible to 1 queen-size bed, shower.
Approximately 141–284 sq. ft.

Stateroom amenities include:

Our signature Mariner's Dream™ bed featuring finely woven cotton linens
Deluxe waffle weave and terry cloth bathrobes for use during your voyage
100% Egyptian cotton towels
Premium massage showerheads
5X magnifying make-up mirrors and salon-quality hair dryers



Fragrant soaps, lotions, shampoo and other bath amenities from Elemis Aromapure
Complimentary fresh fruit on request
Elegant ice bucket and serving tray for in-stateroom beverages
Flat-panel TV and DVD player
Ice service, shoeshine service and nightly turndown service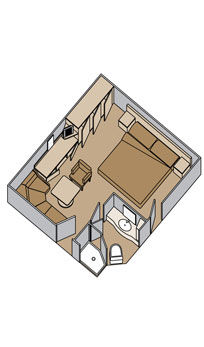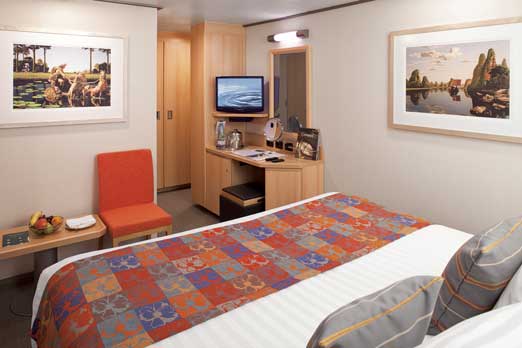 2 lower beds convertible to 1 queen-size bed, shower.
Approximately 141–284 sq. ft.

Stateroom amenities include:

Our signature Mariner's Dream™ bed featuring finely woven cotton linens
Deluxe waffle weave and terry cloth bathrobes for use during your voyage
100% Egyptian cotton towels
Premium massage showerheads
5X magnifying make-up mirrors and salon-quality hair dryers



Fragrant soaps, lotions, shampoo and other bath amenities from Elemis Aromapure
Complimentary fresh fruit on request
Elegant ice bucket and serving tray for in-stateroom beverages
Flat-panel TV and DVD player
Ice service, shoeshine service and nightly turndown service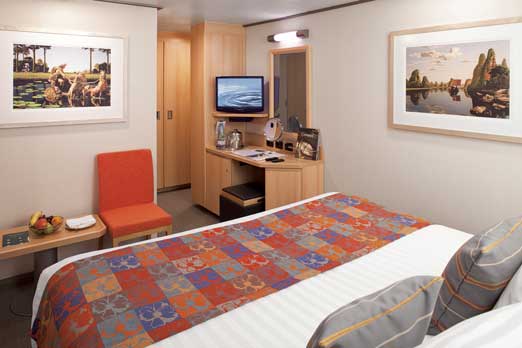 2 lower beds convertible to 1 queen-size bed, shower.
Approximately 141–284 sq. ft.

Stateroom amenities include:

Our signature Mariner's Dream™ bed featuring finely woven cotton linens
Deluxe waffle weave and terry cloth bathrobes for use during your voyage
100% Egyptian cotton towels
Premium massage showerheads
5X magnifying make-up mirrors and salon-quality hair dryers



Fragrant soaps, lotions, shampoo and other bath amenities from Elemis Aromapure
Complimentary fresh fruit on request
Elegant ice bucket and serving tray for in-stateroom beverages
Flat-panel TV and DVD player
Ice service, shoeshine service and nightly turndown service

2 lower beds convertible to 1 queen-size bed and 2 upper berths, private shower.

185 sq. ft.

Stateroom amenities include:

•Our signature Mariner's Dream™ bed featuring finely woven cotton linens
•Deluxe waffle weave and terry cloth bathrobes for use during your voyage
•100% Egyptian cotton towels
•Premium massage showerheads
•5X magnifying make-up mirrors and salon-quality hair dryers
•Fragrant soaps, lotions, shampoo and other bath amenities from Elemis Aromapure
•Complimentary fresh fruit on request
•Elegant ice bucket and serving tray for in-stateroom beverages
•Flat-panel TV and DVD player
•Ice service, shoeshine service and nightly turndown service

2 lower beds convertible to 1 queen-size bed and 2 upper berths, private shower.

170-200 sq. ft.

Stateroom amenities include:

•Our signature Mariner's Dream™ bed featuring finely woven cotton linens
•Deluxe waffle weave and terry cloth bathrobes for use during your voyage
•100% Egyptian cotton towels
•Premium massage showerheads
•5X magnifying make-up mirrors and salon-quality hair dryers
•Fragrant soaps, lotions, shampoo and other bath amenities from Elemis Aromapure
•Complimentary fresh fruit on request
•Elegant ice bucket and serving tray for in-stateroom beverages
•Flat-panel TV and DVD player
•Ice service, shoeshine service and nightly turndown service